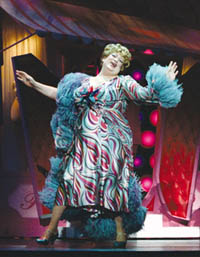 Big Mama: Fierstein
Well, praise the gods of Broadway. The fantastic buzz on Hairspray, the latest musical to hit the boards on the Great White Way, isn't mere marketing hype — it's the real deal, a fun and fizzy musical comedy treat.
The 1988 John Waters film of the same name about a big Baltimore girl with big hair, a big heart, and big dreams isn't the most obvious choice for musical theatre treatment. But it's turned out to be an excellent, engaging story for the stage, and the creative team assembled for the Broadway effort has done top-notch work to tell the tale.
Noted film composer Marc Shaiman teased fans of the musical theatre style with his penchant for clever, catchy songs in the animated movie South Park: Bigger, Longer & Uncut. Now making his Broadway debut with the Hairspray score (in collaboration with co-lyricist and longtime boyfriend Scott Wittman), Shaiman emerges in full musical theatre force with a delicious, memorable collection of pop-styled numbers that perfectly capture the essence of Hairspray's 1962 setting without giving up originality or the functionality that good musicals demand.
Mark O'Donnell and musical veteran Thomas Meehan's book gleans the finest elements of Waters's kooky, subversive sensibility and makes it commercially palatable for a wide audience. But that doesn't amount to watered down, as you might fear. A fondness for Baltimore (warts and all), a love for working-class underdogs, and the sheer delight in all the manifestations of personality shine through in every well-timed punch line and affectionately drawn character.
The weight of Waters's cultural legacy also falls heavily on the character of Edna Turnblad, created on film by the inimitable Divine. Those are some big pumps to fill (among other wardrobe items), and Harvey Fierstein steps up to the challenge fearlessly, creating an original, heartfelt, disarming take on the unconditionally loving mother who re-discovers her fabulous side as her daughter Tracy (Marissa Jaret Winokur) lives out her dream of dancing on television, winning the heart of the school hunk, and breaking down racial barriers faced by her black friends.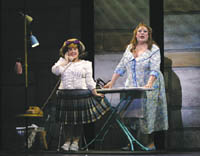 At home with the Turnblads: Winokur and Fierstein.
(Photo by Paul Kolnik)
Tracy is the heart and soul of Hairspray, though, and it's hard to imagine an actress nailing the role more perfectly — dramatically and musically — than Winokur does. Her Tracy bubbles with teenage yearning for experience in life and love, and she's sweetly optimistic without being overly naïve. By golly, why can't a nice fat girl attract the boy she loves, or strut her stuff with the rest of the kids on TV (think American Bandstand), or do anything else she's passionate about?
And that's the beauty of musical comedy that Hairspray embraces and excels with: Even if it's only believable for the two hours or so you're sitting in the theatre, here's a world where wrongs can be righted with a song, a dance, and a refreshing dash of pluck. That's certainly a world where I want to be able to visit, and Hairspray took me there in joyous fashion that's bound to give the show holding power on Broadway for a long time to come.
Hairspray plays at the Neil Simon Theatre, 250 West 52nd Street in New York. Tickets are $65 to $100. Call 212-307-4100. Visit www.hairsprayonbroadway.com.