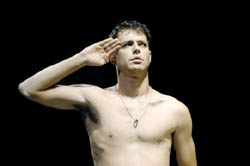 Romantic virgin: Cohn
(Photo by Scott Suchman)
Cabaret meets Pacific Overtures in Privates on Parade, the 25th anniversary season opener for The Studio Theatre. The intriguing "Play with Songs" — a.k.a. a "musical" in some circles — was created by British playwright Peter Nichols (A Day in the Death of Joe Egg) and composer Denis King in 1977, then revised by Nichols for a 2001 production at London's Donmar Warehouse.
Based on Nichols's own experiences, Privates follows the travails of Stephen Flowers (Jon Cohn), a 20-year-old British soldier assigned to a military song-and-dance troupe in Singapore soon after the start of the Malayan Emergency, the struggle between British colonialists and Communist guerrillas that flared up in 1948. The virginal, naïve Flowers is surprised to find the outpost rife with corruption, ineptitude, disorder and sexual permissiveness. But the environment proves to be a powerful catalyst for Flowers's maturing and facing the realities of a rapidly changing post-World War II world — much as Great Britain was maturing beyond its antiquated colonial ways.
The narrative scenes are punctuated with musical numbers in the style of 1940s British popular entertainment. Some fall within the context of the revues the troupe stages for servicemen throughout Southeast Asia, while some seemingly exist as pieces of stand-alone commentary. But all are infused with a biting satirical tone directed at a British society slow to recognize its vulnerability, as well as a tone of seething rage of a nation still reeling from the violent devastation of World War II.
Director Joy Zinoman keeps everything moving at a brisk pace, and she has assembled an appealing ensemble. Cohn fits the bill of the dashing young romantic figure quite well, and he is complemented nicely by Will Gartshore's swaggering, studly take on Flight Sergeant Kevin Cartwright, Jim Ferris's tender rendition of the gay Lance Corporal Charles Bishop, Tom Gualtieri's geeky-but-lovable Leading Aircraftman Eric Young-Love, and David Bryan Jackson's boisterous portrayal of the unrefined Corporal Len Bonny, who turns to Bishop for the love and affection missing without the presence of his wife.
Floyd King gets the plum role of Acting Captain Terri Dennis, the flamboyant gay troupe leader who features himself prominently in drag whenever possible. King meets the comedic demands of his character well enough, although he and Zinoman have belabored a few too many of Dennis's exchanges with other characters when a lighter, throwaway touch would do.
J. Fred Shiffman takes a more subtle path as Major Giles Flack, the bumbling, clueless military commander, and it pays off by revealing a character who's just as ridiculous as Dennis, but appreciably more understated. Michael Tolaydo rounds out the roster of male speaking roles by providing a serviceably menacing presence as Sergeant-Major Reg Drummond, who fears Flowers will blow his cover as a player in the black market. Sunita Param also turns in a serviceable performance as Sylvia Morgan, a local woman who performs with the troupe and falls for Flowers.
By its perhaps-flawed design, Privates has a slightly schizophrenic, disconcerting feel, in that it functions on several stylistic levels simultaneously, plus it's entrenched in period British colloquialisms and historical details that demand much of a contemporary American audience. But Zinoman also seems to strive at times for too much naturalism and emotional earnestness in a work that could clearly withstand — and benefit from — a more stylized, harsher edge. Still, the production is engaging, and even if not wholly satisfying, it's a Parade most will enjoy seeing.  
Through Oct. 20th at the Studio, 14th and P Streets NW. Tickets are $25 to $44.25. Call 202-332-3300.