SEPTEMBER HIGHLIGHTS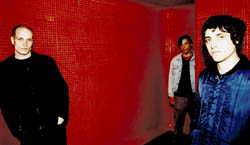 No. 2
9/5: Neil Gust, formerly the gay co-frontman of Heatmiser, reinvents himself as the gay co-frontman of rawwwk-chopped pop outfit No. 2, which just released its sophomore effort What Does Good Luck Bring. The quick-tempered album arrives via Portland-based indie label In Music We Trust, on the heels of their acclaimed debut No Memory. Although short (just over 39 minutes), Good Luck showcases Gust's vocals in proper form: low, raw and explosively volatile.
9/7: Perennial Gay Pride performer and local rock 'n roll nut Mary Prankster takes on the 9:30 Club with her, shall we say, unique brand of pissed off girl power. "Break out the tits and whiskey" with Mary, along with The Crackpots and Monsterpuss.
9/10: After five years of pining, Ani DiFranco fans finally get their Scooby snack in the form of So Much Shouting, So Much Laughter, the sequel to 1997's Living In Clip released on DiFranco's label, Righteous Babe Records. A double disc collection of live performances, the album was recorded with her six-piece outfit between 2000 and 2002, and features three previously unreleased songs. And disco diva Gloria Gaynor returns with a new LP entitled I Wish You Love, which includes a remix from superstar Hex Hector and a bonus CD boasting a live recording of "I Will Survive."
9/13: Lesbian folk singers come and go, but the Indigo Girls will be here forever. Their latest, Become You, while not the heady stuff of their late-Eighties heyday, redeemed their previous two forays into distortion-heavy rock. On perpetual tour, they appear tonight at Pier 6 in Charm City, hon.
9/17: Natalie Cole, the only woman to pull off the faghag role with true class, releases Ask A Woman Who Knows on the respected jazz/soul label, Verve Records. Her first album in three years, Ask boasts the same producer who put out 1991's multi-platinum, multi-Grammy tribute to her father, Nat King Cole, Unforgettable, With Love.
9/23: Though venue details are still tentative, Ladyfest performer and Queerstock founder Doria Roberts is slated to breeze through D.C. today and bang out some blues-infused folk tunes. Her latest album, Alive and Well, has garnered widespread acclaim on the indie circuit.
9/26: Resurrected from a handful of defunct DC hardcore bands, Girls Against Boys contributed to the soundtrack of John Cameron Mitchell's drag epic Hedwig and the Angry Inch. They perform tonight at the Black Cat ($9) at 8:30 with Radio 4.
9/29: So she's not gay — who cares? She's too good not to mention. Fresh off her third solo effort, Aimee Mann, the blond vixen from 'Til Tuesday, shows us how much she's grown up with Lost In Space, and performs tonight at the 9:30 Club ($25).
OCTOBER HIGHLIGHTS
10/4: Straight men in leather miniskirts. Need we say more? A very special Depeche Mode Dance Night at the Black Cat ($5) starting at 8:30.
10/8: In case you missed Equality Rocks a few years back, HRC is at it again. This time it's being openly gay that rocks. Being Out Rocks, produced by openly gay record label Centaur Music, will feature Cyndi Lauper, k.d. Lang, Boy George, Harvey Fierstein and Dar Williams, to name just a few. One hundred percent of the profits will benefit the Human Rights Campaign. Also, Velvet Nation favorite Alex Lauterstein will mix his first Centaur release, Global Groove: Chill. Lauterstein is also slotted to spin this years Black and Blue festival in Montreal.
10/15: Siouxsie Sioux's blend of glamour and social unacceptability has made her a hit on the lesbian/feminist scene. Siouxsie and the Banshees release their greatest hits disc today, which includes cuts "Dear Prudence" and "This Wheel's On Fire". Also, lesbian Natalia King, the Dominican-born, Bronx-raised Parisian blues singer releases Milagro, her debut album, in the U.S. today. Described by MOJO magazine as "one to buy now," Milagro aims to broaden King's appeal to the lucrative American audience.
10/22: When New York's legendary Sound Factory held its thirteenth anniversary event, the music — and the crowd — were caught on tape. Today, Groovilicious releases the recording, The Sound Factory Live: Thirteenth Anniversary Party, mixed by Jonathan Peters and featuring a twenty page booklet and video footage.
10/29: The queen of melancholy makes the leap to the label of Mandy Moore and Flickerstick. Epic Records releases the new Tori Amos album, Scarlet's Walk, with plans for a U.S. fall tour.