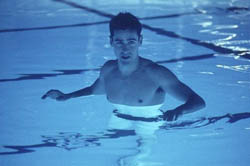 All wet: Bradford.
You know that commercial where two girls wax idiotically about how good their yogurt is? Let's imagine for a moment they just sat through Swimfan. Here's how their perky post-movie chat might go:
"Ummmm, that was bad."

"No, girl, it was painful."

"Eyebrow tweezing painful."

"Full body wax painful."

"Boyfriend sleeps with your mother painful."

"Boyfriend sleeps with your FATHER painful!"

"Taking financial advice from Martha Stewart painful!"

"Taking any advice from Martha Stewart painful!"

"Hemorrhoidal flare-up and you have to sit on a church pew without an inflatable donut painful!"

"Krispy Kreme goes bankrupt painful!"
I think you get the point. Swimfan is painful. Painful and dumb.
A Fatal Attraction for the teen set, the movie stars up and coming teen dream Jesse Bradford as Ben Cronin, an Olympic-caliber high school varsity swimmer with a faithful, adoring girlfriend (Shiri Appleby) and a popularity factor of ten. Ben, we quickly learn, has a delinquent past — one filled with rebellion and drugs. He's squeaky clean now, thanks no doubt to all the chlorine.
Ben's world is about to come crashing down because of a one-night-stand (in the school pool, no less) with the hot new girl at school, Madison Bell (Erika Christensen). Seems Madison's got the same obsession problem Glenn Close suffered from in Fatal Attraction — except she's not suicidal, she's homicidal. Whenever Ben rebuffs Madison's increasingly persistent advances, a little "knife-sharpening" zing plays on the soundtrack, and Madison's eyes fill with fury, as if to say "I'll show you, Ben Cronin — where's my electric hacksaw?"
Madison starts off slowly — first sending Ben a ton of emails with naked pictures of herself, eyes blank, nipples perky. Next, she causes a little problem at the hospital where Ben works after school, causing the boy to lose his job. And then she causes Ben to be disqualified at a major swim meet, dashing his dreams of going to Stanford and possibly swimming on the U.S. Olympic team.
Still, Ben remains resolute. "I have a girlfriend," he tells her. "What happened between us was a mistake."
Madison is determined to make Ben pay for that mistake, so she weighs her options using the "Revenge-Seeking Handbook for Psychotically Love-Obsessed Women" by Alex Forrest: 1) Boil a bunny or 2) kill a high school swimmer and frame Ben for the murder.
The rabbit is spared.
Things get increasingly preposterous as the movie tumbles, headfirst, to a preposterous conclusion.
Directed without a drop of suspense by John Polson, Swimfan doesn't generate tension, doesn't unnerve, doesn't do much of anything. And very little is explained. For instance, Madison's motives are never made clear — though we learn that she has a history of "WHY DON'T YOU LOVE ME?" histrionics with other high school jocks, at least one of whom lies in a coma. Madison isn't very good about getting rid of incriminating evidence, most of which can be found in her panties drawer.
Jesse Bradford, who proved to be an agreeable if forgettable presence in Bring It On, pretty much stands around with his mouth unhinged as though he were waiting for flies to zoom in or drool to dribble out. Can Bradford's fans, who helped the movie take the number one spot at the box office last weekend (a trend that can't possibly continue if there is any justice in the universe), ever forgive him for this belch in his bland career?
Despite being forced to play ludicrous material, Christensen serves up a chilling, sinister portrayal of a psycho scorned. Christensen, stunning as Michael Douglas's drug-addicted daughter in Traffic, doesn't quite transcend Swimfan's waterlogged material, but she at least gives it the good old college — er, high school, try.
I knew going into Swimfan that it was going to be stupid. Just how stupid, you ask?
"Anna Nicole Smith stupid."
"Yogurt commercials with two girls talking about how good yogurt is stupid."