Tuesday, Oct. 22, 9:30 p.m.
Lincoln Theatre, $9



Spanish director-screenwriter Ventura Pons brings the David Leavitt novella The Page Turner to the big screen as Food of Love, but the rewarding nuances of Leavitt's literary craft are all-but-lost in the translation. What remains isn't without a certain melodramatic, soap opera appeal, but it turns out to be little more than a guilty pleasure.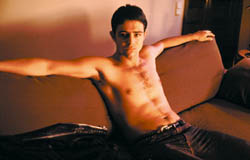 Food of Love
The story follows the coming out of 18-year-old Paul (Kevin Bishop), an aspiring concert pianist who becomes involved with 40-year-old Richard (Paul Rhys), a famous pianist he's long idolized. The affair transpires when Paul and his overbearing, near-hysterical mother Pamela (Juliet Stevenson) vacation in Barcelona shortly after she decides to divorce Paul's father. It's there that Richard is vacationing as well after wrapping up a concert tour, and the intrepid, though obsessive, Paul tracks him down at his hotel, where the suave Richard seduces Paul by — let me see if I can say this with a straight face — offering him a massage.
Back in the States, Paul, now enrolled at Juilliard, falls into a pattern of relationships with much older, influential men, including Joseph (Allan Corduner), Richard's longtime boyfriend/manager who Richard failed to mention. Paul's a bit thick, though, and can't put two and two together until his equally thick mother sweeps into town to put an end to what she's convinced is a destructive relationship with Richard, whom Paul hasn't even seen since their summer vacation fling.
The acting is consistently off the mark, unless superficiality for a quasi-camp effect is what Pons was aiming for. (Perish the thought.) Bishop's performance — what must anchor the film for it to work — is a particularly mediocre mess. He's inexplicably trapped in a mode of dour expressions and flat, lifeless line delivery that keeps the film amusing in the wrong way, and well beyond the reach of dramatic redemption. — JP