Saturday, Oct. 19, Noon
Goethe Institut, $9





While America was grilling its president about a contact high he got at a Stones show a million years ago, the country best known for having more sheep than people (hold the giggles) was electing a transsexual to its national parliament. Georgina Beyer went from man to woman, from stripper to politico, from nothing extraordinary to nationally elected New Zealand legislator — the first transsexual in the world ever to do so. Her story is as impressive as she is, and the award-winning documentary that tells it is tightly directed, slickly edited and captivating throughout, ripe for heavy screening on the activist circuit.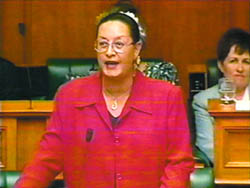 Georgie Girl traces Beyer's life through flashbacks of her turbulent rise to prominence, interspersing them with C-SPAN style clips of snappy and eloquent soundbytes from the Parliament floor. The nonlinear narrative makes the film feel less biographical and more like a sociological study of the white, rural, conservative New Zealand culture that amazingly put merit over prejudice in electing a national leader.
Flashbacks to her days as a stripper have the grainy, pulp feel of 1970s porn, and clips from TV shows Georgina starred in should interest connoisseurs of archaic pop culture (fun fact: She was a Best Supporting Actress nominee at the New Zealand Emmys).
Georgina herself comes across as dignified and smart, making it almost easy to understand how she won over such a conservative culture. She is the reason the documentary works as well as it does. — Will Doig