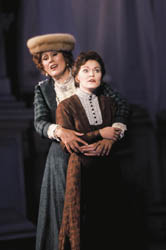 Great Dame: Te Kanawa with Schaufer.
(Photo by Carol Pratt/The Washington Opera)
Director Steven Lawless brings us a polished and absorbing production of Samuel Barber's Vanessa. It's one of those rare events when every member of the cast presents a well-conceived character, sings optimally, and fits neatly into the ensemble both dramatically and musically. Conductor Emmanuel Joel guides the Washington Opera orchestra through a lustrous and nicely-layered rendition of the score — drawing the listener in, yet never overwhelming the unfolding drama among the players and their voices. All told, this a fine offering.
Opera buffs will no doubt flock to the production since it boasts the world-renowned soprano Dame Kiri Te Kanawa in the title role. The diva does not disappoint. Her voice remains as pure as velvet, strong in every register, but never tinged with the brass that so many newcomers mistake for power. It pulls you straight to the Milky Way while leaving one tiny corner of your rational mind marveling at her technical prowess. Te Kanawa is also a confident actor, sure enough of herself to step away from some of the hackneyed conventions of the craft that dog lesser performances. There is no reliance on the stock poses of abject misery and female passivity so often conjured by other heroines.
Mezzo-soprano Lucy Schaufer plays Vanessa's niece Erika in a more conventional fashion, bringing somewhat less originality to the role. Yet she sings the part with strength and clarity. Mezzo-soprano Rosalind Elias plays the intriguing Baroness, Vanessa's mother. Though she created the role of Erika in the world premiere of the opera in 1958, she has also made the Baroness her own, imbuing every movement and aspect of this woman with energy and emotional portent.  She continues to sing with fine, full tone. The two males in this drama, John Matz as Anatol and David Evitts as the Doctor, round out the cast with their diametrically opposed characters. Matz is particularly remarkable for his honest tenor and accomplished acting (and it was delightful to see an understudy with so much star-shine).
The only true drawback to this production is Gian Carlo Menotti's libretto, which succeeds in trivializing much of the drama. There's no question that is a hothouse tale, with three generations of women neuroticized by scandal and isolation who implode on the arrival in their cloistered midst of a mysterious male. Yet when the Washington Opera staged the opera in 1995, the tale took on a Chekhovian grandeur, culminating in a stunningly stark desperation.  Though this Vanessa reaches a poignant climax in its own right, it cannot achieve the same beautiful complement of Barber's new sounds with old pain.
Unfortunately, there is also something bland and overly familiar about the sets. There are some thoughtful props — white flowers against a snowy window backdrop — but all in all, one doesn't get the true sense that these women live in this house, even in their own rarified way. That said, Vanessa unfurls with such well-paced grace, there is no need for the sets to be too center-stage.
Playing at the Kennedy Center Opera House November 1, 4, 7 and 10, 2002. For tickets call (202) 295-2400.