[CRITIC'S PICK]
Saturday, Oct. 19, 3 p.m.
Goethe Institut, $9





In 1948, Harry Hay "wrote a document that would spark a revolution," recites the dulcet-voiced narrator for this stunning, must-see documentary about the life and mission of Harry Hay, generally recognized as the father of the gay rights activist movement. The document became the basis for The Mattachine Society, which Hay founded in Los Angeles with several fellow queer Communists in the late 1940s. "Harry declared that the problem was not with homosexuals," continues the narrator, "but with the society that mistreated them."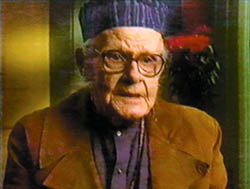 Harry Hay
Eric Slade's hour-long documentary combines select archival footage with modern-day interview footage (several original members of the Mattachine, along with Hay himself, share their recollections), and artful, abstract imagery to help illustrate the stories told, creating a memorable, transfixing documentary experience.
"The Mattachine Society was not just political," says the energetic octogenarian Hay, whose life story is every bit as fascinating as the movement he helped found. Harry not only was married (and fathered two children), but he also engaged in an affair with the actor Will Geer (later famous as Grandpa Walton). He was eventually ousted by the Mattachine Society when the group went mainstream and cut its ties to Communism. Harry's search for balancing a spiritual life with a political mission comes full circle by the film's end, as he takes up with The Radical Fairies.
Hope Along the Wind is as tender, informative and captivating an hour as you're likely to spend at this year's Reel Affirmations. Most of all, it is a fitting tribute to a man who took great risks so that later generations could celebrate their gayness freely, openly and without shame. — RS