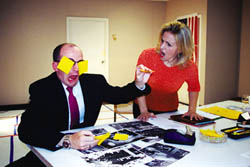 Office politics: Church and Clarke
(Photo by Kathleen Akerley)
Politics and religion are riddled with hypocrisy, and moral conservatives who rail against sexual content in publicly funded art probably get off on the very things of which they're critical.
If this is news to you, then by all means, 7 Blowjobs is a play you need to see. (You also need to pick up a newspaper every now and then.) If, however, you like your political satire honed with a message a little more timely than something out of 1991, the year Mac Wellman's play premiered, 7 Blowjobs is a tougher sell.
It's understandable, to a degree, that the fledgling, experimental Purchased Experiences Theatre Company would be drawn to 7 Blowjobs, especially in the context of Art-O-Matic 2002, the huge multidisciplinary arts event of which it's a component. After all, nothing says, "Naughty rascals!" like poking fun at politicos within spitting distance of the very buildings in which they ply their trade.
Plus, Art-O-Matic is infused with a commando, revolutionary spirit in its temporary "takeover" of the deserted Environmental Protection Agency offices at Waterside Mall in Southwest to emphasize the importance of the arts in urban revitalization. (Never mind that the complex has already been re-christened Waterfront by developers with no intent at this point to incorporate arts venues into their extensive plans for office, retail and residential space on the site.)
But there has to be fresher material than 7 Blowjobs that Purchased Experiences could have chosen to drive home this overarching "government ain't all it's cracked up to be" message. Still, there are some skillfully funny performances to enjoy from the small cast, notably Jonathon Church as Bruce, a conservative senator's aide rattled by the mysterious arrival of seven suggestive photographs in his office, and Dan Brick as the smarmy televangelist Reverend Tom.
Wellman's quirky, anti-naturalism approach served the company well in its last production, Harm's Way, and the playwright may have other material well-suited to Purchased Experiences. But the stale political diatribe of 7 Blowjobs does not cast either the playwright or the company in the most favorable light.
Through Nov. 30 at Waterfront, 401 M St. SW. Tickets are $9.99. Call 202-361-9138. Visit www.purchasedexperiences.com.
---
Just say, "No, you go," and you know how to pronounce the cryptic title Knoyugogh, the latest production from the experimental outfit Little Globe Theater. Company founders and artistic directors Kate Eastwood Norris and Scot McKenzie are featured, along with musician Scott Burgess, in a world premiere piece by Reuben Dunbar that casts the actors as children at play who shift seamlessly into myriad characters and situations.
The underlying theme, perhaps, is that theatre at its very core — no matter how "serious" — always requires a childlike freedom from inhibition and freedom of imagination that actors must hold onto. Norris, an exceptional actress who's delivered some of the most memorable performances of recent seasons, and the engaging McKenzie are clearly having a blast, and if this is what they need to keep themselves charged up for their various gigs around town, more power to them.
The disappointment that can't be ignored, though, is that Dunbar's material — skits about a drunken starlet and the gay man she lusts for, or uptight British anthropologists whose miserable African assignment is redeemed by the prospect of sex, or crotchety nursing home denizens playing poker for pills — is run-of-the-mill stuff. Mildly amusing, but most unremarkable. These talented actors deserve better.
Through Nov. 17 at Robert Cole Studios, 1708 15th St. NW, rear entrance. Tickets are $15. Call 202-234-9495. Visit www.essentialism.com.