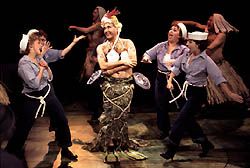 On the halfshell: Redmond as Luther Billis.
Photo credit: Scott Suchman
For all the familiarity such a hit-laden musical theatre warhorse brings with it, Arena Stage's revival of Rodgers and Hammerstein's 1949 milestone South Pacific is remarkably fresh and engrossing. Shaped with sincerity for the period's heightened innocence and moral flaws, yet maintaining a knowing sense of humor and 21st-century insight, the show is an unequivocal triumph for Molly Smith, directing her first musical for Arena since taking the artistic director reins five years ago. Let's hope it won't be nearly as long before she delivers a repeat performance.
From the grandiose opening strains of the overture, it's clear that music director George Fulginiti-Shakar has a perfect grasp on every subtlety in a richly orchestrated score, providing a flawless aural backdrop for a bounty of well-crafted performances. Kate Baldwin emerges from the start with an original, endearing take on Ensign Nellie Forbush, the self-described Arkansas hick struggling with identity and romance on the South Pacific island where she's stationed as a nurse during World War II.
Baldwin brings a powerhouse Broadway voice to Nellie's slate of standards, adding warm, colorful depths of emotional and musical resonance to the likes of "A Cockeyed Optimist," "Twin Soliloquies" and "A Wonderful Guy." The same can certainly be said for Richard White as Emile de Becque, the expatriate French planter trying to entice Nellie into marriage. When White adds his soaring voice to an already smoldering, sensuous Emile at such key moments as "Some Enchanted Evening" and "This Nearly Was Mine," watch out. It's enough to make anyone weak in the knees.
Smith also gets maximum swoon mileage from the intense romance between Lt. Joe Cable (Brad Anderson), a strapping young Marine, and Liat (Liz Paw), a Tonkinese beauty whose racial identity becomes an insurmountable barrier for Joe.
Anderson provides a wrenchingly tangible sense of Joe's conflict between desire and social constraint, and Paw, left without complex character shadings, still finds an authentic expression of Liat's passion for Joe. Anderson brings an impressively polished vocal skill to his numbers, especially the ballad "Younger Than Springtime" (another weak-kneed moment to relish). Supported in their big romantic scene with sumptuous lighting by Allen Lee Hughes and breathtakingly bold scenic elements by Kate Edmunds, Anderson and Paw achieve some of the most striking and powerful stage imagery in recent memory.
Responsibility for comic relief falls into the extremely capable hands of Lori Tan Chinn as the scheming Tonkinese trader Bloody Mary (a reprisal for Chinn from South Pacific's recent television adaptation), and Lawrence Redmond as Luther Billis, the similarly scheming, but sweet, Seabee always trying to make a fast buck. Redmond is particularly appealing in Smith's vibrant re-thinking of the second act drag number "Honey Bun." (Yes, a Billis without a coconut brassiere can be done.) There's also superb ensemble work to enjoy from the other Seabees and nurses, especially when choreographer Baayork Lee throws great steps their way for, respectively, "There Is Nothin' Like a Dame" and "I'm Gonna Wash That Man Right Outta My Hair."
If you love classic musicals, or you want to love them, South Pacific is a don't-miss winter destination. And you may even find it a trip worth repeating while you have the chance.
Through Feb. 2, 2003, in the Fichandler at Arena Stage, 1101 6th Street SW. Tickets are $10 to $52. Call 202-488-3300. Visit www.arenastage.org.