Twelfth Night glows with an alternative-styled sexiness, while Last Seder is a skillful exploration of family dynamics in disarray.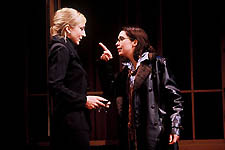 Playing for laughs: Marshall and Twyford.
(Photo by Carol Pratt )
Philadelphia director Aaron Posner's list of Shakespearean triumphs at Folger Theatre grows longer with Twelfth Night. Like his hip takes on As You Like It in 2001 and Othello in 2002, Twelfth Night glows with an enticing, alternative-styled sexiness and an amazingly natural grasp of the language that belies its age. Also in the vein of Posner's previous achievements at Folger, Twelfth Night makes lovely use of live music, this time written by musician-playwright Craig Wright as catchy alt-pop ditties sung by various cast members, many of whom double as instrumentalists.
Twelfth Night
Directed by Aaron Posner
Folger Theatre
Through 2/9
202.544.7077
Holly Twyford takes on the plum, gender-bending role of Viola, who survives a shipwreck and settles into Illyria, where she disguises herself as a page so she can be close to the dashing, irresistible duke Orsino (Ian Merrill Peakes). Twyford and Peakes effuse great romantic chemistry, along with a tangible sense of repressed emotion that accompanies Viola's façade and Orsino's growing confusion at the fact that he's seemingly falling for a young man.
Kate Eastwood Norris is radiant, as usual, in her performance as Olivia, a countess whose lingering melancholy after her brother's death is washed away when she falls in love with Viola, still in her guise as Orsino's page. This throws Olivia's household into further comedic chaos, as it's already been upended with the shenanigans of her boozy uncle Sir Toby Belch (David Marks), his party pal Andrew Aguecheek (James Sugg), the maid Maria (Dori Legg) and the jester Feste (Sarah Marshall) — all of whom have targeted the haughty butler Malvolio (Rick Foucheux) for mischief.
All of these supporting roles are extremely well-crafted by the actors and Posner, who's become a director whose work should not be missed. Don't let Twelfth Night be an opportunity that slips by.
It would take an awfully hard heart to be unmoved by Jennifer Maisel's The Last Seder, a skillful exploration of family dynamics in disarray now at Theatre J.
The four grown daughters of Lily (Halo Wines) and Marvin (Bill Hamlin) converge on their Long Island childhood home for the final Passover Seder the family will share before the house is sold and their Alzheimer's-decimated father is moved to a nursing home. Insecure elementary school art teacher Michelle (Carla Briscoe) shows up with a total stranger, Kent (Tim Getman), a nice Jewish boy she meets in the train station and talks into accompanying her so her family will stop badgering about her nonexistent love life. Pregnant lesbian therapist Julia (Susan Rome) arrives with her life partner Jane (Michelle Shupe), already warmly welcomed into the fold. The high-strung lawyer Claire (Kerri Rambow) brings her longtime boyfriend Jon (Jim Jorgensen), while baby sister Angel (Tricia McCauley) flies solo until she reconnects with her teenage love, Luke (Kelly Gardner).
The Last Seder
Directed by Joseph Megel
Theater J
Through 2/9
800.494.TIXS
Maisel manages to keep tabs on all the interpersonal goings-on, and even throws in a sensitive handling of the budding, complex romance between Lily and the widower next door, Harold (Bernard Engel). The playwright is also generous with comedic moments without slighting the serious themes that anchor her work. And under Joseph Megel's sharp directorial eye, the ensemble navigates the ever-shifting emotional terrain with impressive skill.
The Last Seder also ventures boldly into spiritual territory, utilizing the belief that the spirit of the prophet Elijah can enter the home during a Seder. It's a device that ups the emotional ante to three-hanky level, yeilding miraculous glimpses of a family momentarily relieved of the sorrows they bear and emboldened with joyful hope for their future.
Lauded British thespian Steven Berkoff certainly lives up to his reputation for flamboyant theatrics in his lively lecture-performance Shakespeare's Villains: A Masterclass in Evil. Though the focus is villainy's myriad forms in such characters as Richard III, Hamlet, Oberon, Iago, Macbeth, Lady Macbeth, Coriolanus and Shylock, Berkoff keeps the tone overarchingly light, at times to distraction. His gift for highly animated facial expressions, gestures and almost mime-like movement would serve his material better in smaller doses. As it stands, caricature overwhelms characterization a bit too often. (Through February 2 at The Studio Theatre. Call 202-332-3300.)
New Yorker Leslie Ayvazian puts a gently amusing spin on life's high points and pitfalls in High Dive, an autobiographical solo piece in which her attempt to overcome a fear of heights by jumping off a diving board becomes a starting point for a stream-of-consciousness exploration of formative experiences in her past. Ayvazian possesses a strong command of comedic writing, and has a warm, likable personality. It's a good thing, since she's content to leave High Dive a bit rough around the edges, favoring the disruption of extensive audience interaction and an under-rehearsed performance style over the highest professional polish possible. (Through February 9 at MetroStage in Alexandria. Call 703-548-9044.)
Keegan Theatre tackles Irish writer Brendan Behan's 1958 The Hostage with an earnest approach highlighted by strong performances from David Jourdan and Nanna Ingvarsson as proprietors of Dublin tenement house where a young British soldier is being held by the IRA in an attempt to stave off the execution of a young Irishman at British hands in Northern Ireland. The tricky thing is, Behan crafted The Hostage with musical breaks, characters' frequent asides to the audience, and a bitingly satirical tone aimed at both misguided Irish nationalism and British oppression. It demands a sharper, more stylized, agitprop slant than director Mark Rhea can muster with a large, inconsistently skilled cast and modest, off-the-mark design elements, ultimately leaving the production unable to rise very far above mediocrity. (Through February 16 at Clark Street Playhouse in Crystal City. Call 703-527-6000.)