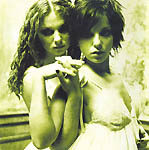 RUSSIAN GIRLS IN LOVE… It might be, as every music critic writing about them has skeptically suggested, just a gimmick that the Russian teenagers in t.A.T.u. are two lesbians in love. Of course these doubting Thomases wouldn't raise a fuss if it were a boy-girl duo in love. And they didn't question Ricky Martin's singing about girls. Yes, the implausible duo is awfully showy about its relationship, and their kissing in the "All the Things She Said" video is tantamount to soft-core porn. But if it's all a lie, it's betrayed by a sparkling intensity of feeling on 200 KM/H in the Wrong Lane (Interscope). The brooding, emotional state of the music is a direct result of the sharp minor-key chord progression coloring every song — in a twisted way, nothing can brighten a day like a hard-charging, sad up-tempo song. They even redo The Smiths' near-suicide song of yore "How Soon Is Now?" and, though it sounds far more hopeful than Morrissey would have ever had it, it's still full of brilliant despair and mournful chords. The tenor of the moody, thoroughly melodious music with cushiony synthesizers and plucky strings does remind you of Ace of Base's "Beautiful Life" and "Lucky Love." But t.A.T.u.'s sound is certainly a modern-day upgrade of the Swedish quartet, with significant rock 'n' roll, even punk, influences at times nearly overshadowing their dance-pop orientation.
And then there's the fascinating delivery, which often comes fast and phonetic. (English is not their first language after all.) Lena Katina and Julia Volkova sing their hearts out and shift octaves occasionally to float to the heavens in ethereal, angelic sopranos that recall Bjork. Maybe it all is a marketing gimmick, right down to the meticulously produced music (by Trevor Horn, who's worked with Depeche Mode, Grace Jones and Seal). Even so, t.A.T.u. (which isn't, apparently, an acronym for anything) certainly is not speeding in the wrong lane. It's just right, by us.
HER HEART WILL GO ON A CHRYSLER… Chrysler "wanted to show that music equals love. That's who Celine is and who she stands for." Who else but Celine Dion's husband and manager Rene Angelil would say such a thing? Who else, indeed. Angelil was talking to the Wall Street Journal, which was reporting on Chrysler's selection of Dion for a new series of commercials, in which the gas-guzzling vocalist will sing tracks from her forthcoming album (due in March) to the tune of nearly $20 million. First up is her remake of the Roy Orbison song, "I Drove All Night," best known as a hit Cyndi Lauper cover.
DIVA OVERLOAD… Just last Christmas the music industry had a severe case of diva overload, from Mariah to Whitney to Deborah to Toni. Who won, at least in sales? Well, so far, Shania, J-Lo and Missy are ahead of the game, with Christina doing surprisingly well for herself. But watch out, 'cause we're in for another round, and this time it's for real. Janet (yea) and Celine (nay) are both wrapping up new albums, as are three other wildly popular singers. Mary J. Blige is recording her next, due in a few months, with none other than Sean "P. Diddy Doo-Doo" Combs. By hiring him Blige is throwing her no-more-drama mantra right out the window. Combs did, though, work with Blige on her wonderful breakthrough album, What's the 411? (MCA), ten years ago, so there's hope yet. Britney Spears is at work on her fourth studio album, which better come out soon, since her star is being quickly (and inexplicably) eclipsed by the likes of Avril Lavigne. The most promising bit of news, is that Spears is considering enlisting Daft Punk and William Orbit — late of Madonna — to help craft her new work.
SPRING FEVERÂ… Also this spring, P. Dippity-do will bring back, on his suitably named Bad Boy label, a reunited New Edition, but without — don't cry — the ultimate bad boy, Bobby Brown. And the amazingly original British dance duo of Felix Buxton and Simon Ratcliffe, better known as Basement Jaxx, will drop its follow-up to 2001's Rooty (Astralwerks). Finally, in just a few weeks the Pet Shop Boys will return to form with Disco 3 (Sanctuary Records). Whereas previous albums in the Disco series from the celebrated gay duo of Neil Tennant and Chris Lowe have exclusively featured remixes of the Boys' hits, Disco 3 will include five new songs in addition to much-needed remixes of less-than-danceable tracks from last year's Release (Sanctuary Records). One intriguingly titled new track: "Try It (I'm in Love with a Married Man)."