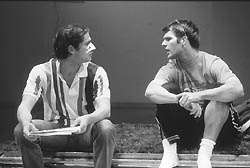 Head of the Class: The Shape of Things
(Photo by Carol Pratt)
Another year, another hundred shows scrutinized. Luckily for local audiences, there was a lot of exceptional work to enjoy. Winnowing it all down to the ten best productions isn't the easiest thing to do for such a banner year as 2002. But doggone it if it isn't a lot of fun to revisit all the moments worth treasuring.
1. The Shape of Things (The Studio Theatre) — Is Holly Twyford the best actress in Washington? In a year that she floored us in Oleanna and Othello before even getting around to a phenomenal take on Evelyn, the art student with a goddess complex in Neil LaBute's The Shape of Things, I'd say she's a pretty good bet. You go, girl.
2. Surface Transit (Woolly Mammoth Theatre Co.) — The theatrical world is overpopulated with writer-actors' solo performance pieces, many of which are so whiny and self-indulgent that it's tempting to dismiss the whole freakin' lot. (Holly Hughes, never again.) But if you overlooked Surface Transit on such grounds, you missed out — big time. New York's Sarah Jones took an unflinching look at race and class issues, but never failed to brilliantly reflect a healing love for humanity.
3. Oleanna (Source Theatre Co.) — Mamet is awfully hard to get right, and the playwright's early-'90s indictment of "political correctness" provides particularly prickly terrain. Not a problem, though, with Arena Stage associate Wendy Goldberg directing, and Holly Twyford and Rick Foucheux working together in perfect tandem as a university student and teacher whose lives are radically transformed when issues of gender, sexuality, power and victimization collide to intoxicating theatrical effect.
4. Passion (The Kennedy Center) — It was the star power and macabre mirth of Sweeney Todd that signaled to the world last May the Kennedy Center was back in the production business and the summer-long Sondheim Celebration was not to be missed. But it was August before the unprecedented event reached its zenith with Eric Schaeffer's production of the dark, brooding and searingly beautiful Passion. Judy Kuhn's stunning take on the troubled and troubling Fosca will not soon be forgotten.
5. The Duchess of Malfi (The Shakespeare Theatre) — Washington's flagship classical company had blood on its hands this time around, but that's just how it should be in the revenge-driven realm of Jacobean drama. Leading lady Kelly McGillis helped drive catharsis to new heights as the suffering duchess. Come back, Kelly, anytime.
6. Big Love (Woolly Mammoth Theatre Co.) — The oldest Greek drama in existence, The Suppliant Maidens, provided some of the freshest stage material you could hope for, as Woolly took playwright Charles Mee's clever update on warring sexes and ran with it. And it's no surprise that Washington's other best actress, Kate Eastwood Norris (also superb in She Stoops to Conquer at the Folger), managed to stand out in a delightfully strong cast.
7. South Pacific (Arena Stage) — Directing her first musical at Arena, the formidable company's artistic leader, Molly Smith, handily managed to find refreshing new insights into Rodgers and Hammerstein's tried-and-true classic without ever losing a grasp on the sheer "aw-shucks" giddiness that old-school musicals convey when it comes time to break into song after glorious song.
8. Bat Boy The Musical (The Studio Theatre Secondstage) — One of the few times being a theatre fan in Washington felt like a handicap was the joyous occasion of Bat Boy, one of those New York cult hits that took too long for a local company to pick up. For all its theatrical convention-prodding, some would call it the anti-musical. I call it captivating.
9. The Laramie Project (Olney Theatre) — A D.C.-area production of Moises Kaufman's theatrical documentary about the aftermath of Matthew Shepard's 1998 murder was a long time coming, but it was well worth the wait as Olney corralled fine talent for an earnest, straightforward and ultimately gut-wrenching take on the harsh reality of prejudice in America.
10. Three Sistahs (MetroStage) — Bernardine Mitchell, Crystal Fox and Desiré DuBose raised the roof in staid Old Town Alexandria as siblings reunited in 1969 Washington to lay to rest their last surviving family member. William Hubbard's period-style songs were awesome, and director Thomas W. Jones II kept the focus right where it needed to be: on those three wonderful women.
Honorable mentions, in alphabetical order: Contact and Les Misérables (National Theatre), Corpus Christi (Source Theatre Co.), The Gospel According to Fishman and What the Butler Saw (Signature Theatre), Hot Mikado (Ford's Theatre), Kiki & Herb in Pardon Our Appearance (Woolly Mammoth Theatre Co.), La verdad sospechosa (GALA Hispanic Theatre), The Little Foxes (The Shakespeare Theatre), Miklat (Theater J), The Misanthrope (Arena Stage), Othello and She Stoops to Conquer (Folger Theatre), Our Town (Round House Theatre), and Spamlet (Cherry Red Productions).