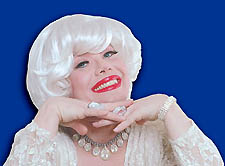 Skipper as Channing.
Richard Skipper left his hometown of Conway, S.C., right out of high school in 1979 with his sights set on a dream: to be a Broadway actor.
For the last five years, though, that dream has been on hold because he's been so busy working full-time as a Broadway actress.
Skipper, you see, is the creator and star of the solo cabaret performance An Evening with Carol Channing, devoted to the flamboyant personality and phenomenal career of the diva who shot to fame in 1949 as Lorelei Lee in the original Broadway version of Gentlemen Prefer Blondes and went on to star as Dolly Levi in the mega-hit musical Hello, Dolly! for much of the '60s.
A multiple award-winning hit on the cabaret circuit in Manhattan, An Evening with Carol Channing has also been a hot property at performance venues throughout North America. Local audiences have already been introduced to Skipper as Channing at Signature Theatre, Rosslyn Spectrum and Actors' Theatre of Washington. He returns this weekend for two performances of his Channing show at Alexandria's MetroStage.
"I never thought of doing impersonation," says the gay Skipper, who turns 42 next week, as he recalls his first decade in New York. "If someone had told me ten years ago that I would be doing this, I would've thought they were off their rocker."
But that changed after he took the role of an obsessive Carol Channing fan in the 1990 off-Broadway play Men of Manhattan. Even though he didn't have to dress like Channing, his dead-on rendition of her famous vocal patterns and mannerisms created such a buzz that Skipper found himself being called on to perform as Channing in various revues. When Channing herself, now 82, made headlines in the mid-'90s with her return to Hello, Dolly! for a Broadway run and national tour, Skipper was convinced that audiences would turn out for an impersonation show devoted to Channing.
"She's an over-the-top performer," Skipper observes, "and a lot of people have impersonated her over the years. What separates me is that I want to present her as a real person."
In addition to his live rendition of songs in the incomparable Channing style (accompanied at MetroStage by local gay musician George Fulginiti-Shakar) Skipper also distinguishes his performance by his ability to take questions from the audience about Channing and — armed with knowledge culled from exhaustive study of her interviews, game show appearances and the like — respond to them in a conversational way that leaves audiences convinced they've just spent time in the theatre with Channing herself.
Winning an audience over can also mean conquering misconceptions that exist — in both straight and gay venues — about what drag performance can entail. "There's still a stigma that goes along with this genre," Skipper points out. "I have to educate people to let them know that I'm an actor playing a role — which happens to be Carol Channing at the moment. If you can get beyond the fact that it's a man playing the role, that says a lot about who you are." — Jonathan Padget
An Evening with Carol Channing will be performed at 5 and 7:30 p.m. on Sunday, February 9, at MetroStage, 1201 North Royal Street in Alexandria. Tickets are $25. Call 703-218-6500. Visit www.metrostage.org and www.richardskipper.com.