Dreamcatcher aims to be a serious horror flick, but instead becomes an overwrought snooze fest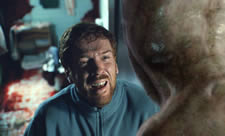 No dream: Lewis meets the alien
If you're feeling generous, you may see good reasons why director Lawrence Kasdan thought bringing Stephen King's horror novel Dreamcatcher to the screen was a good idea. King's work, after all, has been the source of other directors' most brilliant and successful work, from Rob Reiner's Misery and Stand by Me to Frank Darabount's The Green Mile.
If you've seen the movie, though, you probably aren't feeling all that generous.
Dreamcatcher, the novel, marked the prolific King's return to publishing after being run over by a drunk driver. It's a passable tale, though not one of his best, full of all the King staples: a childhood friendship that overcomes a frightening challenge; a group of men whose past holds the key to their future; a supernatural/alien being with a tendency to reproduce/spread in an unappetizing fashion; a borderline insane military man who would destroy the world to save it.
 Dreamcatcher, the movie, takes everything that's bad about King and smears it around the screen in a bloody mess.
Four friends, you see, are on their annual hunting trip to the deepest wilds of the Maine woods. Jonesy (Damian Lewis) is recovering from a recent car accident. Henry (Thomas Jane) is a suicidal psychiatrist. Pete (Timothy Olyphant) and Beaver (Jason Lee) are, well, the other two friends who tell dirty jokes, drink a lot of beer and generally serve as plot advancement devices.
Dreamcatcher
Starring Morgan Freeman, Damian Lewis, Jason Lee, Timothy Olyphant, Donnie Wahlberg
Directed by Lawrence Kasdan Rated R
The four friends share some psychic abilities, apparently conferred upon them by a childhood friend, the mentally retarded Duddits, who they once saved from bullies. They aren't aware, however, that their winter hideout has become the stomping ground of a particularly nasty breed of alien, and a secret U.S. military outfit determined to eradicate it.
Morgan Freeman lends his authoritative presence as Col. Curtis, the psychotic military man. There's no discernable reason for his presence here, beyond giving the studio an excuse to use his name in the marketing campaign. He's detached, near-somnambulant, and counting all the way to the bank.
After a slow start, things get violent and bloody when worm-like aliens make their extremely scatological debut. Things slow down again when Jonesy finds himself possessed by an alien, called Mr. Gray. Trapped in his own mind, Jonesy realizes that Duddits is the key to stopping the aliens.
Truly, Dreamcatcher goes wildly wrong in so many ways it's hard to pinpoint the worst one. Screenwriter William Goldman, who adapted the novel along with Kasdan, displays none of the deft talent for severing sentiment from mawkishness he showed in his adaptation of Stand by Me. And the slavish devotion to the book leaves the movie so plot-bloated, it's near impossible to figure out what the point of the whole affair is.
Kasdan switches tones so wildly and so often, it's like watching the movie itself have a nervous breakdown. One minute it's a male friendship movie, the next it's an after-school special (complete with the incredibly hammy child actors who always seem available for Stephen King movies), and the next it's Apocalypse Now on Mars. Late in the movie, scenes begin transitioning with wipes straight out of Star Wars. Things simply make no sense.
Bloated, pretentious, hammy and — the most damning sin for a horror movie — boring, Dreamcatcher has no nightmares to offer. If you need a fear fix, go rent The Ring.
---
Walking on Water
Starring Vince Colosimo, Maria Theodorakis
Directed by Tony Ayres
Walking on Water opens with a sepia-toned shot of three friends — two guys, one gal — walking along enjoying some early-morning, post-party camaraderie. Then one of the guys bursts out in a fit of coughing, and you instantly know where this is going.
The AIDS drama is a staple of gay and lesbian cinema, and the Australian Walking on Water is a sometimes moving, if not particularly novel, example of the genre.
As party boy Gavin realized his imminent death from the disease, he asked that he be allowed to die when the illness became too much to bear. Charly and Anna take responsibility for carrying out the wish, bringing in Gavin's family for their friend's final moments.
The assisted suicide doesn't go quite as planned — Gavin just won't stop breathing. Only when Charly takes a sudden, impulsive action, does Gavin pass on. Charly's decision is supposed to underpin everything that comes after.
Problem is, it doesn't quite do that. Predictably, Gavin's death provokes fights and breakdowns among his friends and family. There's lots of mourning and understanding through drugs — you've got to love the recurring theme in gay cinema of gay men who mourn by going out and having really hot three-way sex. Hey, whatever works for you, bud.
Emotions finally boil over and real agendas are revealed, but not to much overall effect. Walking on Water is a collection of interesting, occasionally moving moments, worth watching, perhaps, but not much for holding on to.
Reel Affirmations Xtra's screening of Walking on Water show Friday, March 21, at 7 and 9:15 p.m. at the Jewish Community Center, 16th and Q Streets, NW. Tickets are $8. Box office opens at 6 p.m.