A Revolutionary musical shines at Ford's — a much better bet than WSC's disjointed Henry V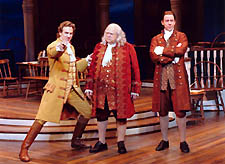 Freedom fighters: Graham
Rowat, Huddleston and Cleale
Photo by Stan Barouh
The Broadway musical 1776 has received a most handsome mounting by Ford's Theatre, complete with a skilled cast and striking design that do full justice to composer Sherman Edwards and writer Peter Stone's lively 1969 work.
With an emphasis on the human foibles and intense personal passions that can easily get glossed over in historical perspective, the musical examines the Continental Congress at Philadelphia in the summer of 1776 as it struggles to agree on the issue of independence from oppressive English rule, culminating, of course, with the adoption of the Declaration of Independence on July 4th.
1776
Ford's Theatre
Through 6/1
202.347.4833
Ably directed by David H. Bell, a large cast — numbering twenty-five in all — delivers winning performances all around. Lewis Cleale's strapping John Adams, the musical's central character, is portrayed with a nice sense of the complexity behind an idealistic patriot pushing for independence, even when forces of complacency, deference, fear and loyalism surround him. A bemused Benjamin Franklin is always on-hand to offer wise insights to temper Adams's impetuousness, and David Huddleston gives the bespectacled founding father just the right air of charm and amicability.
As newlyweds Thomas and Martha Jefferson, James Ludwig and Kate Baldwin glow with youthful desire — the sexuality of 1776's Colonial figures being key to making the material feel like more than a staid history lesson. Baldwin, fresh from her triumphant Nellie Forbush in South Pacific at Arena Stage, soars vocally and emotionally in "He Plays the Violin," Martha's sensual ode to her husband's versatility. Ludwig, too, hits his mark with his grasp of Jefferson's vulnerability and self-doubt as he's tapped to write the Declaration.
In one of those great out-of-nowhere musical theatre moments, Chris Peluso steps into the spotlight at the end of Act I as the Courier, a young soldier bearing correspondence from General George Washington, bravely facing encroaching British forces in New York with a ragtag Colonial army. With a gorgeous clarion tone, Peluso nails "Momma Look Sharp," the Courier's heart-wrenching lament for his two best friends killed in battle.
You also get a great one-two dramatic and musical punch from Trent Blanton, as South Carolinian Edward Rutledge, when he breaks into the booming "Molasses to Rum," a scathing condemnation of hypocrisy about slavery, an issue that emerges late in the story and threatens to derail a unanimous vote for independence.
Still, miraculously, the American nation is born — flaws and all — with a flourish of signatures at 1776's triumphant finale. History and theatre, at that wonderful moment, have served each other exceptionally well.
---
Henry V
Washington Shakespeare Co.
Through 4/26
703.418.4808
History is also on tap in Washington Shakespeare Company's production of Shakespeare's Henry V, featuring Karl Miller in a commanding performance as the young English king who takes to heart his dying father's advice to "busy giddy minds with foreign quarrels" and launches an invasion of France.
Director David Bryan Jackson has utilized only ten other actors to portray over thirty additional roles. He and designers Kim Deane and Lynnie Raybuck have also toyed with a staggering array of visual devices — masks, puppets, hobbyhorses, even an overhead projector — to convey Shakespeare's sweeping scope of action.
The concepts are clumsily executed, though, and do more to clutter the stage than they do to clarify the proceedings and unify the production's tone. Indeed, Miller's strong work notwithstanding, the whole affair is too busy for its own good.