You can confront a troubling world, or make jubilant musical escapes from it — all are fine options.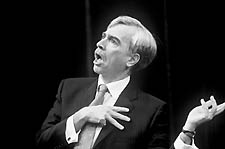 He's the Man: Goodwin
Playwright Edward Albee's Absurdist roots are showing — big time — in his recent work The Play about the Baby. An intriguing curiosity now at The Studio Theatre, Baby focuses on blissful young newlyweds (Kosha Engler as Girl and Matt Stinton as Boy) whose idyll is interrupted by the arrival of a peculiar Man (Philip Goodwin) and Woman (Nancy Robinette) who question the existence of the couple's newborn.
Now, you're probably saying to yourself, "Whaddya mean? You either have a baby or you don't." And it's exactly the kind of metaphorical posturing on display that's often enough to drive an audience batty. Yet Albee is such a skilled, evocative wordsmith, and the production is so vibrantly rendered by director Joy Zinoman and her cast, that you find yourself content even when the mysterious proceedings end with puzzling questions still hanging in the air.
Goodwin brings a delicious flamboyance to his role, painting the Man with broad strokes of silliness and theatricality. He literally dances around the stage at times, beguiling the audience in solo moments with the Man's random musings on life. But Goodwin is just as adept when he hones in on quite sinister moments as the Man chips away at the couple's idealism, challenging them to confront aspects of reality they've glossed over. It's an effective mix of mannerisms that keeps you appropriately uneasy — you're never quite sure how much, or how literally, to fear his character.
The Play about the Baby
Studio Theatre
Through 5/4
202.332.3300
Robinette is similarly adroit when it comes to playing up the comedic aspects of the Woman, making her daft and likeable in both solo and ensemble moments. She also must possess, much like Goodwin, a command of an animated, near-Vaudevillian physicality that elicits plenty of laughs while at the same time amplifying Albee's increasingly bizarre tone.
Robinette's Woman is more sympathetic and comforting, though, in response to the couple's confusion and fear when she and the Man become an explicit threat — a nice, maternal contrast to Goodwin's less-forgiving character. But she still comes through, right in step with Man, in the unnerving climax with a surreal final assault on the couple.
Engler and Stinton, who spend much of the first act in the nude, convey a tangible, powerful sense of the sensual, Eden-esque nirvana the Girl and Boy are striving to maintain. "We're young, we have a baby, and I'm hard all the time," the Boy explains earnestly at one point to some kind of god, pleading to be spared from the inevitable pain of life until sometime beyond this point when, as he sees it, everything is perfect.
But reality creeps in without regard for personal preference. For the Girl and Boy, it does so with a particular vengeance, stirring up a whirlwind of questions about sexuality, devotion and even the most fundamental, inarguable truth of their relationship: "We have a baby."
Or do they?
Ain't Misbehavin'
Arena Stage
Through 5/25
202.488.3300

The jazz stylings of Thomas "Fats" Waller — at the pinnacle of popularity in the 1930s and '40s before his untimely death in 1943 — are celebrated in the revue Ain't Misbehavin', now receiving a solid production at Arena Stage featuring E. Faye Butler, Doug Eskew, Janeece Aisha Freeman, Amy Jo Phillips and Raun Ruffin in thirty of the songs most closely associated with Waller.
A particularly strong second act is highlighted by Raun's feverish take on "The Viper's Drag," Eskew's "Your Feet's Too Big," Butler and Phillips's hysterically raunchy "Find Out What They Like," and an exquisitely harmonized "Black and Blue" with the full ensemble. It almost makes the first act feel more like a warm-up, but complaints are few when spirits soar as high as they do by the end of the evening.
42nd Street
National Theatre
Through 4/12
800.722.4990

The Broadway revival of 42nd Street has tapped its way into town in a winning touring production filled with endearing, fresh-faced hoofers who feel like they've stepped right out of 1933 New York, the musical's setting. Randy Skinner has created an intoxicating mix of new choreography and recreations of Gower Champion's signature contributions to the original 1980 Broadway production, and both longtime 42nd Street fans and first-timers should feel confident that they're in for a genuine treat.
You should especially keep an eye out for Catherine Wreford, nothing less than amazing as Peggy Sawyer, the starving chorine at the story's center who gets catapulted to stardom overnight when she steps in for an injured lead actress. With devastatingly good dance skills and a perfect mix of vulnerability and pluck, she's exactly the kind of heroine who's a joy to root for throughout.