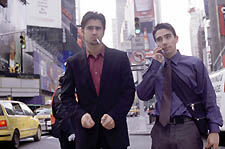 Calling Cad: Farrell with Nobbs
Phone Booth opens with a flashy tech-infested sequence littered with jittery, fast-motion images of people on their cell phones. Meanwhile a narrator offers statistics on how many people use those very cells phones in greater Manhattan (three million, in case you're interested). The camera then hones in on an old-fashioned glass phone booth at the center of 53rd Street and 8th Avenue. "It's the last booth of its kind, " proclaims the narrator, who also informs us that it's slated for demolition. He then introduces us to Stu Shepard (Colin Farrell), the man who will be the booth's last customer and who will, through no fault of his own, cause the booth's demise a day early.
A young, slick publicist who treats New York as his own personal oyster, Stu's a fast-talking, duplicitous ego-maniac. He keeps his adoring, puppy-like assistant (Keith Nobbs) on a leash of payment promises. He manipulates anyone with whom he comes in contact with a bevy of lies. And, most important, he's on the verge of plunging into an affair with Pam (Katie Holmes), an aspiring actress who works as a waitress. He compulsively calls her every day at the same time from the 53rd Street phone booth, avoiding use of his cell so that wife Kelly (Radha Mitchell) will have no physical record of his calls.
He's already smarter than Jerry Springer.
Stu's routine proves to be his downfall, giving a sanctimonious sniper reason to launch an attack that will leave the PR hotshot in a potentially lethal spot. The sniper is hidden behind one of several hundred windows looking down on the booth and Stu, on the receiving end of the sniper's call, must obey his every command, lest innocent bystanders — or Stu himself — be picked off by a semi-automatic rifle.
The first to die is a pimp. The police who have cordoned off the murder scene believe Stu is the assailant. But one astute, lazy-eyed detective (Forest Whitaker) realizes something's amiss and patiently begins to work through the puzzle.
PHONE BOOTH
Starring Colin Farrell, Keifer Sutherland, Radha Mitchell and Forest Whitaker
Directed by Joel Schumacher
82 minutes
Rated R

Area Showtimes
Ultimately, the success of Phone Booth rests on director Joel Schumacher's ability to wring white-knuckled suspense from the standoff between Stu and the trigger happy sniper and Stu and the trigger-ready police. But Schumacher — a mediocre director at his best, a schlockmeister at his worst — doesn't understand the nature of the confined set genre. He keeps straying away from the phone booth, wandering into other bits of action. The ambling diminishes the movie's impact. The director can't keep the tension taut, regardless of how many times we hear the threatening cock of Mr. Mystery Sniper's rifle — after a while, it becomes white noise and the thrills flicker out as Phone Booth tumbles headlong toward a finale so lame, it might as well shout "God bless us, everyone. "
As much as I've disliked Colin Farrell in other roles, in Phone Booth he is at least commanding — in a quivering, sniveling sort of way. Keifer Sutherland provides the voice of the caller, but his edited-in voice-over — sinister, with a dash of the effete — is intrusive, particularly the incessant, forced chuckling. The overlapping of Sutherland's lines with Farrell's, in addition to the rich booming quality of the sound, prevents any realistic connection from being made. It's a collect call performance phoned in from a sound-proofed booth somewhere at a recording studio in L.A.
Whitaker, Mitchell and Holmes are little more than would-be targets, a fact that we're constantly reminded of by our friendly sniper. "You've got a lot of lives in your hands, Stu, " he says, with a heh-heh-heh and a ha-ha-ha.
Fortunately, Phone Booth is brief — at eighty merciful minutes it's shorter than most contemporary children's animated features. And yet the brevity works against it — you never feel as though you've gotten your money's worth.
Don't answer this phone.