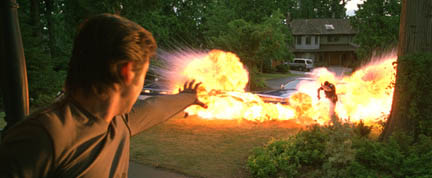 Bryan Singer's gone and done it again — created an emotionally rousing, smart and sophisticated movie based on a comic book.
And the amazing thing is, it's a sequel — a sequel better than the first.
Singer's movie, of course, is X2, the follow-up to X-Men, which, in the summer of 2000, was instrumental in igniting the current comic book-to-big screen craze. Based on a popular Marvel Comics title, X-Men introduced us to mutants, a new, more evolved form of humanity. Each mutant has his or her (or its) own specific and unique power, whether it be shape-shifting, fire-casting, teleportation, mind control, or the ability to self-heal. Being different, mutants have provoked fear and loathing in society's non-mutant majority (sound familiar?). But mutants are more powerful, ultimately, than mere humans, and so it would seem only a matter of time before they'd dominate the planet. It would be in humanity's best interest to eradicate them now.
Fortunately, most mutants appear docile enough, with a desire to fit in and a noble need to help out when needed. But there are some mutants who are just plain bad — Magneto (Ian McKellen), for instance — who would prefer to rule humanity with a iron-manipulating fist. Others, like the erudite and level-headed Professor X (Patrick Stewart), would rather use his mutantcy for the cause of good. To that end, he runs an academy for gifted young mutants where he helps them develop their powers and realize their unique place in the world.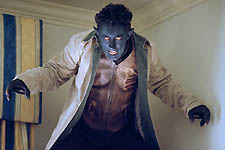 Repentant mutant: Cumming.
X-Men pitted Professor X against Magneto, whose evil plan was to turn all humanity into mutants using a special energy net cast from Liberty Island. X2 carries the story to the next logical step by introducing Dr. William Stryker (Brian Cox), who has personal reason for despising mutants. He's developed a technique for controlling mutants and engages in a plot to annihilate all mutants in one fell swoop, using Professor X as his conduit.
The new movie requires viewers to have at least seen the first in order to fully appreciate all the nuances. There's little in ways of introductory explanation, and yet X2 still clocks in at well over two hours thanks to a rich, fully fleshed out screenplay that gives each of the returning X-Men, as well as some new ones, a major showcase or two. The narrative is built on a solid foundation of these set-pieces, yet nothing seems extraneous and everything combines to propel the story toward its surprising and thrilling conclusion.
Singer has always excelled at smaller, more intimate moments, but with X2 he finally exhibits a real knack for orchestrating big, eye-popping action sequences. The movie opens with a certifiable dazzler, as Nightcrawler (Alan Cumming) teleports his way through the White House in a furious and frenzied attack on the President. X2 concludes with a gripping forty-five minute climax that plays like a stack of showstoppers, each one more monumental than the last. The final climactic sequence is extraordinary, and points to a hopeful third film in the series.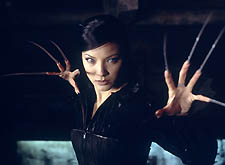 There's a blazing intensity and a sense of whiz-bang excitement to these big moments, the hands-down best being an extraordinary sequence in which Magneto engineers his escape from a non-metallic prison. The young and impulsive Pyro (Tadpole's Aaron Stanford), who can manipulate fire at will, has a brutal and explosive moment mid-movie, but it's the indestructible Wolverine (Hugh Jackman) who gets the lion's share of the action, including one heart-stopping fight where he's matched with Deathstrike, a formidable opponent who, like him, has a skeleton made of indestructible adamantium steel complete with retractable claws (or, in her case, really, really long fingernails). Wolverine and Deathstrike's match is relentlessly, unapologetically violent — and yet it's preceded early on by an equally violent rampage as Wolverine literally tears through a team of Special Ops agents attacking the academy.
X2
Directed by Bryan Singer
Starring Hugh Jackman, Halle Berry, Famke Janssen, Ian McKellen, and Brian Cox
135 minutes
Rated PG-13
Overall, the intensity level is elevated in X2, making X-Men seem almost quaint by comparison. Fans will be pleased to note that the female players — Halle Berry's Storm, Rebecca Rominjn-Stamos' Mystique, and Famke Janssen's Jean Grey, are given larger roles that influence the story in more meaningful ways. A few of the X-Men — Anna Paquin's Rogue, James Marsden's Cyclops, and Shawn Ashmore's Iceman — are shunted to the back of the mutant bus, although each has at least one defining moment.
The performances elevate X2 beyond the ordinary. Jackman is brilliant at blending rage with quick throwaway lines. If he weren't so feral-looking, he might make a great James Bond someday. McKellen lends coy, sinister appeal to Magneto, but it's Cox's malignant Stryker who is the film's driving evil force. Cox chills to the bone. Another Brit, Alan Cumming, counterbalances with a tender, poignant portrayal of Nightcrawler, a blue-fleshed being with a demonic look and the repentant soul of a monk. Nightcrawler's German Catholic leanings introduce new depth into the saga, offering an even greater humanization aspects to the mutants. The metaphors are more than ripe for the plucking.
Like its predecessor, X2 forgoes the typical garish look associated with films adapted from comic books and opts for a dark and muted tone, especially in Stryker's secret underground compound, where sheen and luster is supplanted by crumbling, water stained decay.
X2 races, with majestic confidence, out of the gate this Friday. It's a triumphant prelude to what one can only hope will be a summer of equally memorable blockbusters.
Advertisement