The arrival of a new Annie Lennox album is a joyous occasion, though joyous is not a word that rolls off the tongue when speaking of the artist. Lennox is a recently divorced, 48-year-old mother of two adolescent daughters and a purveyor of bittersweet pop the last 20-plus years. Silent for the past eight, her reemergence, with Bare, is every bit the joyous revelation of joyless sentiments we expect from Lennox.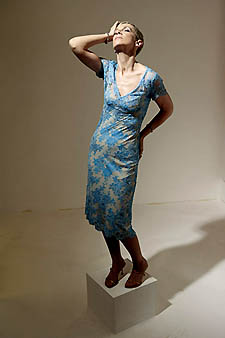 Lennox
Some of her middle-aged female contemporaries have just released albums spurning brooding contemplation for bubbly pop. Not Lennox. She's more contemplative than ever on Bare, where her intent is to expose her fragile self, "broken through experience, but not entirely smashed. "Â  She also seeks to face up to "the failed expectations of life, " she says in her album notes, but that's not quite a new development. It's essentially her stock in trade.
"I didn't want to hurt you (or be hurt by you), " goes one line in her new "Twisted. " On "Honestly " she sings, "The promise that you gave has turned its back/And all you represented was just my projection, you see. " "Honestly " is Lennox at her very best. She cries out the main lyrics and lingers over the melody as a chorus of Lennoxes dances around her, expounding on her plight. There is, though, a hopeful jaunt to the interchange, laid over a sumptuous mid-tempo melody. For all the palpable sadness on the surface, Lennox, baring it all, shows herself to be a rather unshakable optimist.
In song, she's always forcing herself to see the good in the bad, to "pick up the pieces of what's left to find " ("A Thousand Beautiful Things "); or finding strength by admitting weakness –Â  "don't wanna need you but it's where I'm at " ("Wonderful "). Her first single, "Pavement Cracks, " sounds no hopeful note, except in its gorgeous construction, with its melancholic verse waiting to exhale, to become a joyous chorus.
Annie Lennox Bare
J Records

From her work with the Eurythmics to her only other solo albums of original material, 1992's Diva and 1995's Medusa, Lennox has proven herself a great pop lyricist, and her savvy lyrics salvage even her weakest song on Bare, "The Hurting Time, " simpering along for more than seven minutes of lazy depression. As a songwriter, she appeals with her form of gospel and blues-tinged pop that has few present-day parallels. As a vocalist, she's not taken by the American Idol-fueled melisma craze of singing seven notes where only one is written. Lennox wisely chooses the traditional style of powering her crisp-clear, industrial-strength voice by holding back at crucial moments. Sweet dreams are made of this.
—
Fannypack
So Stylistic
Tommyboy


If you miss the synth-pop that Lennox has abandoned, Fannypack might do the trick. And has Fannypack got a joke for you. So Stylistic is a one-joke album, and it has nothing to do with the name of the multiracial Brooklyn trio. Soon enough you may be tired of hearing of cameltoes, a phrase that Fannypack has snagged for its first song, almost destined to become a summer radio hit.
The girls explain the "growing epidemic " of this female fashion faux pas thusly: "a full frontal wedgie. "
There's more where "Cameltoe " came from on the group's debut album, due July 8, but nothing that, shall we say, gets your panties all up in a bunch quite the same way. Admirers of "stupid " music, Fannypack throughout harks back to the '80s, from programmed beats — "System Boomin' " sounds like Technotronic — to the early-school rap the girls chant, in loose tribute to Salt-n-Pepa among other early playful rappers.
---
Liam Lynch
Fake Songs
S-Curve Records


For still more jokes, take Liam Lynch for a spin. Lynch credits most of the artists who inspired him on Fake Songs, except the one most responsible, Weird Al Yankovic. From his home computer, Lynch has created 20 clever and spot-on sounding "fake songs, " from a "Fake Bjork Song " ("I wrestled an idea, and threw it in a box; I'm sort of maybe hassled ") to a "Fake Depeche Mode Song " ("If I were happy would you punish me? ") to others that respectfully parody and caricature the Bee Gees, the Foo Fighters, They Might Be Giants, even the Beatles, whose Ringo Starr bangs drums on a couple tracks.
Doug Rule can be reached at drule@metroweekly.com.