"I thought they made spectacle of themselves, frankly. I thought it was dumb. "
Fred Ebb — one half of the famed Broadway musical team Kander and Ebb — is grousing about the big smooch that songwriting team (and lifelong partners) Marc Shaiman and Scott Wittman planted on each other on national television after they won a Tony for Hairspray.
"Your bedroom is not the screen, " he says. "And it is also not the stage. Say 'Thank you' to the people who helped you get where you are, 'thank you' to the source material, 'thank you' to the players and sit down. "
There is no stopping Ebb, who won't discuss his own sexuality when asked ("I don't think it's anybody's business "), no convincing him that two men sharing a loving kiss on TV is good for gays everywhere.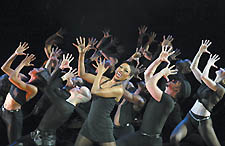 Cast of the musical Chicago
"Nobody has any right to intrude his private life on a mass audience, " he grumbles. "It is intrusive. "
But then Ebb takes a sudden turn and brings up his Kiss of the Spider Woman, a musical that dealt very directly with a love between men.
"That's how you make a statement, " he says. "That's how you raise a flag. Through your art. I don't have to do it through my mouth in front of millions of people and make myself look like an idiot.
"If [a project] came along where [gay marriage and rights] was a major issue, " he continues, "I'd be the first one to do it. I'm afraid of nothing in that area, and I would write anything in that area as, for example, [playwright] Terrence [McNally] has. Terrence takes those issues and tackles them with taste and clarity and forcefulness. He doesn't get up there and show his ass. "
The feisty seventy-year-old lyricist was thrilled when Chicago made it to on the big screen, winning a Best Picture Oscar in the process.
"We owe [director] Rob Marshall a great debt of gratitude, " he says. "When it was first produced in 1975, it was a very theatrically conceived presentation. None of us had a really stupendous notion of how to make it into a motion picture. "
The movie's success hasn't put a dent in the current stage revival's business. In fact, a new touring company starring Gregory Harrison recently landed at the National Theatre.
As for his own Broadway favorites, Ebb cites a lasting fondness for Frank Loesser's Guys & Dolls.
"I could look at that show every night of my life and gasp at how good it is. A show like that makes me faint with admiration. And if I listen to it long enough, I want to get out of the business — because I don't feel I could write that well, ever. "
Chicago runs through June 29 at the National. Call 1-800-447-7400 for more information.