More than 300 people started Capital Pride week at a panel discussion on the "gay agenda."
(Photo by Michael Wichita)
Is there a gay agenda? Eight national leaders gay, lesbian, bisexual and transgender communities discussed that question before a packed house of more than 300 on June 2, kicking off the week of Capital Pride activities. While there were differences on the movement's tactics and fine points of what should or should not be included, the overall tone was more cooperative than had been seen at some similar events in the past.
"Do we have issues on which we can speak in a common voice? The answer is an unqualified yes," said Patrick Guerriero. The panelists had drawn numbers to decide their order of speaking and the executive director of Log Cabin Republicans went first.
He sketched out a new policy to "save our firepower…to take on the voices of bigotry" rather than sniping at other community organizations. Their focus includes pushing a legislative agenda of hate crimes and employment protection, personal privacy, "recognition of our relationships," HIV and breast cancer.
"We recognize the great hypocrisy of fighting for freedom overseas while some of the men and women of the armed forces cannot be free in expressing their sexual orientation," he said.
"You don't get respect in America unless you demand it," Guerriero concluded.
Martin Ornelas-Quintero, executive director of the National Latina/o Lesbian, Gay, Bisexual and Transgender Organization (LLEGO), said, "There are plenty of gay agendas. There isn't one gay agenda, there isn't one voice, for one voice cannot truly capture the essence of our complexity."
He used the example of immigration. "It is important to me as a gay man," perhaps because he is an immigrant, he said. "Everyone has a different prism, a different angle that they look at [things], and that is good." However, he does not want to be "part of a larger gay community that is splintered, we want to be part of a larger queer community that is united, that is sophisticated in its diversity up front as well as in its actions."
"It really is about justice, and about civil rights, and about civil liberties," said Mara Keisling, executive director of the National Center for Transgender Equality. "It really simply is not possible to create a world in which transgender people are not safe, but gay, lesbian, and bisexual people are safe…It is the same violence that is attacking all of us."
"When our community is under attack, we have an obligation to set all of our agenda aside and unite and fight that attack," said Matt Foreman, executive director of the National Gay and Lesbian Task Force (NGLTF).
He saw this threat in a constitutional amendment to outlaw gay marriage that is being pushed by some on the far right. "I see this becoming a blazing inferno," with Congress and the states passing it much as they did the antigay Defense of Marriage Act (DOMA) in 1993. "There is no way to advance our agenda on our backs alone, we are simply too small a people to do that," Foreman said. "The only way we are going to advance our rights is with all of our allies' rights." He saw the solution in building coalitions and in registering and voting.
"Time and time again, in state after state, we learn that we are better off when Democrats are in charge," said Dave Noble, executive director of National Stonewall Democrats. "The Democratic agenda helps the gay community as well." He asserted, "When we create smaller class sizes, we reduce antigay bullying in classrooms because teachers can pay more attention to what is going on in their classrooms."
Guerriero noted that both DOMA and the antigay military policy of "Don't Ask, Don't Tell" were passed when Democrats controlled both houses of Congress and the White House.
Elizabeth Birch, executive director of the Human Rights Campaign (HRC), struck some of the most optimistic notes of the evening. "We see the agenda as perfect equality. Nothing more, nothing less, whether it is about immigration, or the military, or the 1,045 rights, benefits and privileges extended to Americans on terms of relationship recognition."
"We are winning, and we are winning because when accurate information is put out about who we are as people, who we are as a community, and all of the issues that face our lives, what is created is an amazing cultural shift and emotional shift," she said. "Never in the history of this country has there been such a transformation in attitudes over such a short period of time."
"I am more bipartisan today than I was when I arrived," said Birch. "You need good moderate Republicans or you can't get stuff done in Congress. And you need fantastic Democrats, and more of them."
Craig Bowman, executive director of the National Youth Advocacy Coalition, had a more ominous view. He called these "dangerous times" with threats to affirmative action, reproductive choice, privacy, and a military buildup. "I'm tired of people telling me that the war [in Iraq] is not a gay issue." Military spending and tax cuts "are affecting social safety net programs," and a handful of youth programs have closed their doors.
For Mandy Carter, a founder and staff member of Southerners on New Ground (SONG), the principle question is: "Are we going to be about 'just us' activism? Or are we going to be about joining the justices forces of the broad based civil rights movement, a group that includes us?"
"Every ten years this country gets more and more of color," she said. Will the community acknowledge this demographic change and embrace more of a multi-racial and multi-cultural approach? "Is the LGBT agenda relevant to the lives of communities of color?" she asked.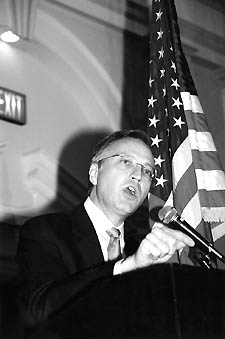 National Gay and Lesbian Task Force executive director Matt Foreman
(Photo by Michael Wichita)
During questions and discussion from the floor, Birch said, "The central way that humankind has controlled homosexuals over the centuries is to project the scourge of pedophilia onto us…People are very tolerant until you get close to their children, and then they freak out." She called it a central challenge that has to be faced "head on."
One young law student called the current situation "unbelievably scary." Birch disagreed, citing numerous recent advances in private industry and in state and local governments. Foreman hedged, saying, "The progress our community has made over 30-40 years is nothing short of extraordinary," yet he feared a backlash that could roll back that progress.
Carter compared it with the black civil rights movement and saw the antigay frothing of extremists as a sign that we are winning. "When we are this close, it means that people start getting scared, and when they get scared, they get desperate. When they desperate, they start doing crazy things."
The forum came to a dramatic close when a woman in the audience stepped to the microphone as "an ambassador of Jesus Christ…Look at someone who God turned from a gay woman to straight." She asked what they would say before god. The audience seemed divided between bemusement and anger, and a police officer quickly removed her from the room.
"Let's answer her question," said Birch. "I would say, thank you god for making such an interesting, colorful variation on the species."