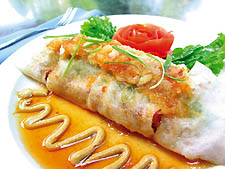 (Photo by Todd Franson)
While 49 Twelve Thai Cuisine won't win any awards for imagination with regard to its name — those numbers come from its address on Wisconsin Avenue in Tenleytown — but its kitchen is turning out some of the best moderately priced Thai food in Washington. This is a place where you're welcome to leisurely enjoy a meal and a bottle of wine, and where you'll be amazed at the consistently high quality of the food.
You'll find that quality right from the start with a dazzling array of appetizers. The satay is excellent, with choices including beef, pork or chicken. My favorite is the pork, which is complemented by the accompanying peanut sauce. Each little skewer is grilled to perfection, yielding juicy and smoky morsels of tender meat.
Shrimp tempura with vegetables is crispy and delicate. A nice variety of veggies, along with large, fresh shrimp, is battered with a light coating and quickly fried. Another notable appetizer is the steamed spring rolls with crabmeat, Chinese sausage and vegetables. Judging from the abundance of flavor, it's likely this appetizer isn't low in fat but it's surely worth the splurge. If you're dining in a group, you may want to try the combination sampler, which includes those three standouts, as well as shrimp stick, stuffed chicken wings and crispy fried bean curd.
Eight curry entrées are offered, and this being a Thai restaurant, expect some heat. Each is labeled either "hot" or "hot and spicy," although they are not so over the top that you feel assaulted. The Thai green curry chicken with coconut milk, bamboo shoots and basil leaves is a winner. Other choices, featuring beef, duck, shrimp, mixed seafood, and vegetarian are available with either red or Panang curry.
Crispy whole fish, priced seasonally, is topped with a spicy chili sauce and basil leaves or, alternatively, with ginger, shrimp, mushrooms, and scallions in a light Thai sauce. Either way, you'll find the fish perfectly cooked.
Siam beef is marinated in a special house sauce then stir fried and topped with fresh ginger, long a mainstay in Asian cooking that is increasingly finding its way into Western cooking as well. The blending of beef and ginger is a tasty one, and it's done particularly well in this dish.
Most evenings bring an entrée special or two. My favorite among those that are frequently offered is chicken with three sauces. Succulent strips of chicken breast are carefully cooked to retain their natural juices while absorbing the blended sauce's spiciness. The delicately fried basil leaves atop this dish make it an outstanding choice.
Asian restaurants are wonderful in that there is always a bounty of menu choices. Eggplant with black bean sauce is stir fried with Thai spices, retaining a firm texture and brilliant color. Another favorite is Pad Thai, the quintessential Thai dish — featuring a generous portion of succulent stir fried shrimp, bean sprouts, egg and roasted peanuts atop rice noodles in a delicious medley of flavors. The Pad Thai here has been my favorite for some time now.
49 Twelve Thai Cuisine
4912 Wisconsin Avenue, NW
202-966-4696
Reservations accepted
Appetizers $3.95-6.95
Entrées $6.95-10.95
Desserts $4.95
While few Thai restaurants offer much in the way of traditional Western desserts, 49 Twelve is the exception to the rule. A pecan tart with flaky pastry crust concluded a recent visit here. Drizzled with chocolate sauce and paired with vanilla ice cream, this was a definite hit. Poached pear with chocolate mousse was good, although I prefer this chocolate concoction to be far richer.
With such reasonable prices and a consistently winning performance from its kitchen, the unassuming treasure at 49 Twelve Thai is sure to be around for a long time to come.
Read a selection of David Garver's reviews at www.metroweekly.com.