While the suburbs have long been blessed with great Indian dining, aside from the Bombay Club there haven't been any other truly fine Indian restaurants in Washington, until the arrival in late 2002 of Indique. Located literally on top of the Cleveland Park Metro station, its name derives from the combination of Indian and unique — and Indique is truly both in spades.
Entering into a two-story interior courtyard, your eyes are naturally drawn upward to a dining mezzanine bordered by carved white marble railing. Second-story diners at tables ringing the courtyard peer down at bold colors and rich fabrics, all of which lend a refined yet casual ambience to the inviting space. Further enhancing the décor are an engraved silver hookah, a gleaming sitar and an attractive chest that doubles as the reservation desk.
The most remarkable achievements of Indique, however, arrive on its stylish tableware — stark white and interestingly shaped. Rectangular plates with upturned edges, bowls with rims slanting toward the diner or winged as if to take flight. These blank canvases are perfect for the artful works being created in the kitchen. Here both appearance and flavor are given equal attention, and both excel.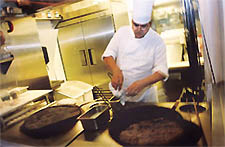 Appetizers, named "first tastes" at Indique, draw on traditional Indian favorites and contemporary innovation. Like tapas or meze and served on small plates, they're meant to encourage sharing among your dining companions. Mini oothapam, a savory pancake made with ground lentils and rice is slightly sweet. It's available in a vegetarian or chicken version, both generously spicy and served with three chutneys which sit ready to enhance your entire meal. A meatless samosa is not the usual pouch of heavy dough filled with overcooked vegetables. Rather, this samosa's flaky flat crust is layered within a stack of nutty-tasting chickpeas and vegetables. Crab Tikki, a version of crab cakes, is enlivened with shallots, crushed red pepper and anise, which could be toned down a notch. More successful are the salmon cakes, whose richer flavor isn't lost against a seasoning blend of ginger, cumin and shallots. Sauced with a dab of tomato chutney, these are not your mother's salmon cakes.
Chicken shashlik, brochettes of breast that are very dry from overcooking, is nonetheless flavorful. Seasoned with fenugreek, an aromatic Asian plant with gently bitter yet slightly sweet seeds, and teamed with onion, tomato and green pepper, it makes for a lively starter.
In shrimp varuval, moist and tender shrimp are stewed with onions, tomatoes and a variety of spices and served with a small portion of rice. As with each selection, a great deal of attention is given to everything, including the rice. On one occasion it was delicately flavored with cumin, cinnamon, cardamon and cloves, each melding aromatically yet remaining subtle.
Breads are an integral part of Indian dining and Indique recognizes this both by baking all of theirs to order and by creating an attraction for viewers who wish to watch the process happening behind large glass windows on the first floor. Our favorites are pudina paratha, a layered whole wheat bread with a kiss of mint, and the traditional naan, a leavened white-flour soft bread, although the latter arrived a bit burnt.
A wide range of entrées spans regional Indian favorites and contemporary influences. One of the joys of Indian cooking is the tandoor, a charcoal-fired clay oven that cooks foods over direct intense heat produced by a smoky fire. King shrimp, marinated in lemon juice, ginger, garlic, and carom seeds and cooked in the tandoor are wonderfully smoky. These huge prawns are nicely complemented with a delicious tamarind chutney and basmati rice.
Among curried entrées, classically rendered lamb vindaloo soars with its perfectly realized chunks of lamb and potato in an intensely spicy sauce. More delicate is the Tamilnad fish curry, a specialty of coastal southwest India, which is moist, firm, and deliciously sauced with tomato seasoned by fenugreek and tamarind.
Desserts are limited but by no means disappointing. Coconut crème caramel is a house specialty and, while certainly not diet conscious, is well worth the splurge. Chocolate Chambord mousse, irresistible in name, is hugely disappointing.
Indique
3512 Connecticut Ave. NW
202-244-6600
indique.com
Appetizers: $4-$7
Entrées $9-$19
Lunch Daily, 12-3pm
Dinner
Sun.-Thurs. 5:30-10:30pm,
Fri. & Sat. 5:30-11pm
Reservations Accepted
In what has to be one of the best bargains around, Indique offers a three-course pre-theater menu Sundays through Thursdays at $18 per person until 7 p.m. Although more limited in its choices, there are six entrées to choose from, two of which are vegetarian.
Indique is planning to offer tasting menus soon to showcase the versatility and talent of its kitchen. While all details haven't been completed, the tasting menus will be devoted to some of the subcontinent's regional cuisines and will be offered only when an entire dining party opts for this experience. Given the quality of Indique's offerings, there soon will be another incentive to dine here again.
David Garver can be reached at dgarver@metroweekly.com.