When any half-pint pop singer can call herself a diva in song, something is woefully wrong. Becky Baeling sings — no, shouts — "I'm a diva, " then repeats for emphasis, with emphasis: "a divah! "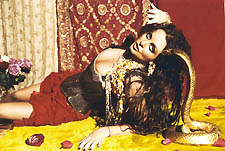 Brightman
And to think you've never heard of her.
You can't make it anywhere as a vocalist in today's American dance music scene unless you proclaim yourself a diva. However you define diva — and the word, almost rendered meaningless, can be defined however you want these days — the truth of the matter is that most so-called dance divas today are neither a "dance singer " nor a "diva. " But American dance music is littered with beautiful women with powerful voices and the mixture hasn't combined to make for compelling sounds. The state of the American strand of dance music has grown very stale over the past couple years, and it may be dying, with few records labels remaining that focus on the genre. Most of the "dance divas " we've got to offer are pure schmaltz: Anastacia. Pepper MaShay. Becky Baeling. Sarah Brightman.
Sarah Brightman
Harem
Angel Records

Yes, that Sarah Brightman, who has produced the worst dance-pop album of the year, if not the past few years. The former Mrs. Andrew Lloyd-Webber and star of his Phantom of the Opera has now retired from Broadway and turned to haunting recorded music and touring. Who would have ever expected Brightman to sound like a female Yanni with faster beats? She does on Harem, her attempt to merge the exotic sounds of the Middle East of legend with uptempo Western pop. She veils her former self in Western stereotypes about the sounds of Arabia, singing like a chirpy holier-than-thou school girl over pretentious, New Age-y kitsch music, characterized by mysterious melodies and formulaic Eastern instrumentation. She only comes close to any sort of success with this blending of Arab folk music and Western pop on the rocking "Mysterious Ways, " and on the album's bonus track, the dance-popper "You Take My Breath Away. " Brightman has said that she's not sure she will try to make an album like this again. We pray not, ensh'allah.
Maybe American dance music would be improved if more men were enlisted. That's the surprising conclusion one can draw from Kevin Aviance's second album, Entity. Aviance is a man-diva, 'tis true. But he's now a new-and-improved man-diva, having learned from the critical and commercial bomb that was his 1999 debut, Box of Chocolates. He keeps his superiority complex in check on Entity, proving that there really is talent underneath the hubris.
Kevin Aviance
Entity
Emerge Records

The first single "Alive " is the best on here, and a year later it has yet to lose any charm. From '80s electro to neo-disco to soul house to even a surprisingly effective bluesy R&B ("Seattle "), Aviance has nearly abandoned his gay-shock jock brand of tasteless techno that was such a turn off. He even channels Britney Spears' breathy vocals, through a haze of Daft Punk, on the gay anthem "Freak It (Live Out Loud). " Aviance credits current world events and his increasing maturity for the more positive, pleasing vibe of the album, whose risqué lyrics on some tracks leave you tickled. Credit also must go to notable dance-pop producer Tony Moran, who Aviance brought on board for this album.
Becky Baeling
Becstasy
Universal

Moran also produced self-styled diva Becky Baeling's debut album out earlier this summer. Baeling's Becstasy, it must be said, is a decent album, with some good songs and even better ideas — especially the first two songs released, the haunting "If You Love Me " and the cascading "Getaway, " both better in their original, pre-remixed form. Baeling herself seems to be a talented singer-songwriter who may yet become the dance diva that she so wants to be. How could we fault the Michigander who aspires to be the next Madonna and ladles up an album full of danceable ditties?
Let's start at the top, so to speak, with "Heaven Is A Place on Earth. " Lightning should strike whoever had the half-baked idea to cover this weak Belinda Carlisle track, and there's no excuse for Baeling's emotionally challenged note-for-note reading of it, either. By contrast, Baeling's main problem elsewhere on the album is overdoing it. She tries too hard to sound sassy, brassy, where an obvious inspiration, Kylie Minogue, would have tried not hard enough. At least she never tries quite as hard as song-killer Anastacia. She comes close on the aforementioned "Diva. " But let's try to forget that awful, awful track. We refuse to give it up, as she shouts at us to do, for the diva. We're tired of the diva, as much as it pains us to say so.