That giant sucking sound you'll be hearing this Sunday night will be the TV industry planting a big fat French kiss on HBO. And that quiet sneering you'll be hearing will be Big Three execs hissing, Yeah, we could win an Emmy, too, if we could show prison inmates plowing one another and Kim Cattrall stuffing a dildo in her hoo-hoo.
Fair or not, HBO promises to turn its impressive 109 Emmy nominations — more than any other network — into scores of wins as the TV biz turns out to self-congratulate itself this weekend.
All eyes are on HBO, still riding a year of phenomenal buzz and critical acclaim. Emmy watchers expect the pay network to cash in on all that goodwill. Though it faces strong—and worthy—competition, it's difficult to imagine a night that doesn't end well for HBO.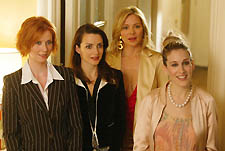 Cast of HBO's Sex in the City
We have our own ideas about who should and shouldn't be awarded those precious golden statutes. We spend so much time writing about what doesn't work on TV, it's a refreshing break to write about what does. And not surprisingly, a lot of that programming is on HBO. So here it is. If we picked the EmmysÂ…
Drama series: CBS's CSI may be the most watched show on TV and Fox's 24 may be a critical favorite, but Six Feet Under is still the best drama on the tube. The Fishers got a little sadder and a little freakier during the second season, but the family of undertakers continues to mesmerize. Alan Ball still delivers masterful, thoughtful scripts and the cast is pitch perfect. HBO will be sad to see the Sopranos lose, but Six Feet Under deserves the win.
Comedy series: HBO, once again, has the top two contenders: Curb Your Enthusiasm and Sex and the City. NBC's Friends and Will & Grace are fine programs, so too is CBS's mega-hit Everybody Loves Raymond, but Sex should win. In its next to last season, the show hit its peak. Miranda, Charlotte and Samantha are our forever friends, and Carrie — well, none of us will ever get over Carrie. Though Larry David is brilliant with Curb Your Enthusiasm, Sex is benchmark TV. It reinvented the sitcom and changed everything.
Lead actor in a drama series: Kiefer Sutherland (24) and Michael Chiklis (The Shield, FX) have put their shows on the map, and it's a shame there's only one winner, but Peter Krause, the tortured Nate Fisher on Six Feet Under, deserves the win. His portrayal of a bored suburban husband overtaken by psychotic grief was nothing short of heroic. Viewers can't wait to watch him fall back into the arms of Brenda (Rachel Griffiths) as he continues to ponder life's greatest question: Am I dead?
Lead actress in a drama series: Alison Janney (West Wing, NBC) continues to delight and Jennifer Garner (Alias, ABC) has a rich career in front of her, but Six Feet Under's Francis Conroy is poetry on the small screen. It's utterly amazing how one look — one glance — from Ruth Fisher can convey more emotion than most actresses manage in a lifetime. Where has she been all these years?
Lead actor in a comedy series: Bernie Mac (The Bernie Mac Show, Fox) is one of the funniest comedians on TV today, and Tony Shalhoub (Monk, USA) is charming as the obsessive compulsive detective, but Larry David of HBO's Curb Your Enthusiasm deserves the top prize. Not since Steve Martin in L.A. Story has an actor so aptly nailed the Los Angeles zeitgeist.
Lead actress in a comedy series: Jane Kaczmarek (Malcolm in the Middle, Fox) is hysterical as the harried mom who keeps it all together in a house full of boys, and Debra Messing (Will & Grace) gets better each season, but Sarah Jessica is, well, Sarah Jessica. The heart and soul of Sex and the City, she's captured the imaginations of urbanites everywhere. Not since I Love Lucy has a show relied so much on its lead actress.
Supporting actor in a drama series: Michael Imperioli and Joe Pantoliano are wonderful in the Sopranos — as is Victor Garber in Alias — but West Wing's John Spencer deserves the win. As grisly chief of staff Leo McGarry, Spencer brings the necessary gravitas and drama to a show dealing with the world's most important issues.
Supporting actress in a drama series: It's amazing what Stockard Channing can do with a few minutes of airtime on West Wing, and Griffiths is one of the best things about Six Feet Under, but honors should go to Six Feet's Lauren Ambrose. As brilliant and tortured Claire, Ambrose is a rare Hollywood find: young, smart and already a master craftsman.
The 55th Annual Emmy Awards
Fox
Sunday
September 21
8 to 11 p.m.
Supporting actor in a comedy series: Sean Hayes from Will & Grace, along with Megan Mullally, continues to be the funniest thing about that show. As media writers trip all over themselves to celebrate Queer Eye and Boy Meets Boy, it's impossible to overlook how Hayes laid the groundwork. As TV's veteran gay funnyman, Hayes ought to get the top prize.
Supporting actress in a comedy series: As sexy Samantha, Kim Cattrall won last year for Sex. Now it's time for Cynthia Nixon to get her props as confident, yet self-deprecating, lawyer Miranda. Nixon's portrayal of a new and reluctant mom has led millions of viewers to the conclusion: There's both sex and Prada after giving birth.