Photo by Todd Franson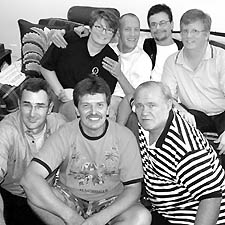 Front row, left to right: Steve Gorman, Ed Martin and Ernie Hoffmann. Back row: Candy Stone, James Kisiday, Alex Leffers and Steven Schumacher.
Capital Metropolitan Rainbow Alliance (CMRA) Mission: CMRA is a social, cultural and educational organization for the deaf GLBT community. Founded: 1977
Number of Members: 60 How to Join: Visit the website at www.deafcmra.org, or stop by an event or meeting. Annual membership dues are $20 for an individual, $30 for couples, $15 for senior citizens, and $12 for a basic (non-voting) membership. Background: "We have grown from a largely hidden group in the 1970s to an organization that serves the needs of a widely diverse and much more open community," says James Kisiday, CMRA president. From the group's annual Eye Party to periodic Dingo nights — like Bingo, but played with a deck of cards — Kisiday says CMRA "is constantly working to bridge the gap between the deaf and hearing GLBT community."
Contact: Visit www.deafcmra.org. The CMRAZoom e-mail list is also available for those who want to get more information and a list of events. Next Event: The next meeting will be on November 8th from 1 to 4 p.m. at 474 Ridge Street NW. The next fundraising event will be a Holiday Party on December 13th. More information can be found on the website.