Photograph by Michael Wichita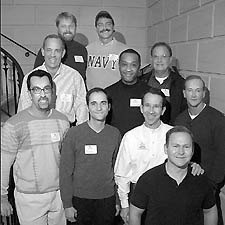 Burgundy Crescent members
volunteering at Laugh Out Loud
Burgundy Crescent Volunteers
Mission: Burgundy Crescent has two missions: to provide volunteers for local and national gay and gay-friendly community organizations in the D.C. area, and to bring LGBT singles and couples together for volunteer activities that are social in nature.
Founded: February 2001
Number of Members: 1,230 members
How to Join: Membership is free. Upcoming events can be found in the weekly e-mail newsletter or on the web site at www.burgundycrescent.org. For more information on events e-mail Eric Cohen at eric@burgundycrescent.org or Angela Hunt at angela@burgundycrescent.org.
Background: Burgundy Crescent has always been about giving back to the community, says co-founder and president Jonathan Blumenthal. But more than that the group is an excellent way to meet new people and find out more about local organizations while volunteering. "It's a great way to volunteer in a social atmosphere," he says. "And in times like this, when the economy is bad, it's nice to help out [the community]."
Contact: For more information about the organization visit the web site or e-mail Jonathan Blumenthal at jonathan@burgundycrescent.org.
Next Event: The group has over 20 volunteer opportunities and one social event each month.  For a complete schedule of our upcoming volunteer opportunities, visit their web site.