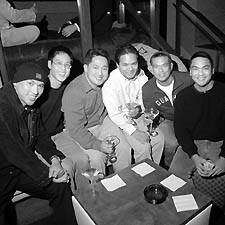 Members of AQUA at the
group's monthly happy hour
(Photo by Michael Wichita)
Mission: To promote a positive image and welfare for queer Asians and Pacific Islanders (API).
Founded: 1997
Members: Approximately 80
How to Join: Complete a membership application, which you can find on the web site or at one of the group's happy hours. Full members pay $12 per year and ally members pay $8 per year. Full membership is for self-identified queer API only.
Background: After coming out in 1993, AQUA co-chair Kevin Lee was "looking for a venue that provided support for myself and other API." Lee says his experience with AQUA has been just that — especially the closed-door "rap sessions" where full members are free to discuss concerns about body image and, "embracing beauty just the way we are."
Contact: Check out the web site www.aquadc.org or e-mail aquawdc@hotmail.com for more information.
Next Event: Monthly happy hour on Wednesday, February 4, at 30 Degrees Lounge from 6:30 to 8 p.m.