Looking Over the President's Shoulder, a one-man show about the first African-American chief butler at the White House, brims with ironies. From 1931 to 1953, Alonzo Fields (Wendell Wright) served quietly and with great distinction four U.S. Presidents — Herbert Hoover, Franklin D. Roosevelt, Harry Truman and Dwight D. Eisenhower. Fields only spoke when spoken to. Playwright James Still inverts the situation, giving Fields an outlet to voice his thoughts on American leadership as the country faced depression at home and world war abroad.
The story of Alonzo Fields' life is less about breaking a racial barrier than it is about the compromises an artist must make in order to earn a living (Fields, we learn, originally wanted to pursue a career as an opera singer, a dream quashed by the depression). While Still highlights this, he seems more concerned with filling the play with behind-the-scenes glimpses of the First Families served by Fields. It's unfortunate that a one-man show neglects the internalized conflict of its main character — the play's dramatic engine runs out of gas long before the conclusion. Still tries to revive the conflict back at the play's end when Fields acknowledges that his service in the White House is the art that his life would create, but it hardly carries the dramatic weight it should.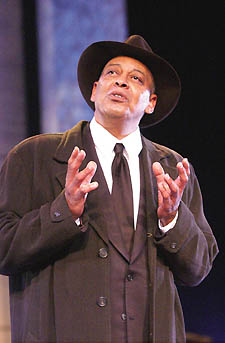 For history buffs and lovers of first family gossip, however, Looking Over the President's Shoulder provides ample insights, some hilarious, others poignant. From keen observations of the dining habits of the Hoovers and Roosevelts, to Harry Truman's courageous decision to integrate the military, the play sheds new light on presidential decision-making and leadership. One of the evening's most touching moments comes as Fields describes how Eleanor Roosevelt scheduled African-American singer Marion Anderson to perform in front of the Lincoln Memorial. The elation he felt was tempered when Anderson was not invited to dine at the White House following the performance, customary for white artists at the time.
Looking Over the President's Shoulder
To 3/7
$29-$45
Ford's Theatre
511 10th St. NW
(202) 434-4833
www.fordstheatre.org

A one-man show must have in its employ an actor who can command an audience's attention for an entire evening. In the case of Wendell Wright, director Still has chosen wisely. The actor is able to maneuver through Field's conflicted life with a grace and dignity, never giving into the play's more sentimental moments.
Ultimately, Looking Over the President's Shoulder is a engaging, fascinating evening, fueled by a performance that brightly illuminates a character whose life gave great service to the country, and in the end, to contemporary theatre audiences.
---
Let Me Be the Music
2/13 & 2/14
8 p.m.
$25
Hammer Auditorium
500 17th Street NW
202-432-SEAT
www.ticketmaster.com
When composer and lyricist David Friedman's revue, Listen to My Heart, premiered in New York, it was originally intended to be performed by members of both sexes. But the Gay Men's Chorus has reshaped the evening into Let Me Be the Music: The Songs of David Friedman, and has offered up eight of their finest to bring to life the composer's lovely, heartfelt works.
Peter Fox's rendition of "I Can Hold You " is mesmerizing, and leaves you desiring more. Songs written during the dark days of AIDS, such as "Help is on the Way " and "We Live on Borrowed Time, " performed with compelling grace by Jeff Hamlin and Joel Furtick, encapsulate the hope and longing that many of us faced. And "I'm Not My Mother " and "If I Were Pretty, " both performed by Chris Cochran, carry a comedic intimacy that is just plain infectious.
Friedman's songs are so exquisite a revue doesn't do them justice — the evening is begging for a book, and a full production. In the meantime, this rendering from the chorus will do nicely.