Few words in the English language possess the inherent, unwieldy power to incite black Americans with such intense divisiveness and fervor as two simple, unassuming adjectives: high yellow. Playwright Dael Orlandersmith first heard these words as a child visiting relatives in South Carolina over long, hot summers, and as they slowly crept into her South Bronx vernacular, so did their wry, implicit meaning.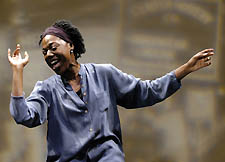 A Pulitzer Prize finalist, Yellowman is Orlandersmith's tragic, touching tale that traces the lives of Alma and Eugene, two schoolyard friends who grow up together and fall in love. As two colorblind kids — Alma is dark while Eugene is light-skinned, or "yellow " — it is left to the adults in their lives to teach them both the lessons of intra-racial prejudice and the distinct difference in their places in society — that the very shades of their own "blackness " will provide one with ample opportunity, while the other must endure a life of struggle and shame. For each, they are taught, the other is the enemy.
Fashioned against the unique, fascinating landscape of the Gullah-Geechee communities in low-country South Carolina, Orlandersmith weaves together a tale of love and ambition, hate and self-realization. Her characters are bound by their troubled family history, and though they share a deep, committed adoration for one another, they are forced to confront the demons that strive to keep them apart. For Alma (Laiona Michelle), it is her "dark and big " Gullah-Geechee mother, whose words slowly destroy her daughter's self-esteem. "You're fat, black, and ugly, and child you always will be, " she spouts off to a young Alma, awakening to puberty and experimenting with make-up. Alma's mother inadvertently teaches her the pain of rejection and the importance of being accepted by the "high yellow " boys.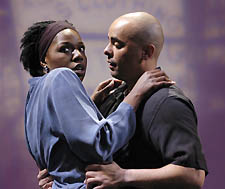 For Eugene (Howard W. Overshown), whose mother is light and whose father is possessed by his own "jet black bigness, " it is the disapproval of his dark father and the contradictory lessons he learns from his light-skinned grandfather that resonate, teaching him the resentment stemming from darker blacks. Yellow men are thought of as little more than punks and faggots, as pretty-boys who don't have to work as hard or achieve as much to be successful.
Tazewell Thompson directs Michelle and Overshown on a near-bare stage, enlisting only two lonely chairs. Thompson explores Orlandersmith's deliberate, witty satire, and under his seamless direction, the only thing ugly about Yellowman is the resentment and animosity among members of the same race.
Designer Robert Wierzel's lighting subtly maintains a plot all its own. His various shades and dimensions of color and light support and express the characters' complex emotional climates.
Overshown, reprising his role from the original New York production, is a fiery mix of youthful adrenaline and weary cynicism in an emotionally-demanding role. His ability to convincingly blend Eugene's aloof habits with his mature actions is a gift to his audience. Michelle is equally moving as a loveable, spirited young woman who grows into her bitter, angry skin with passion and sadness. Although there are times when her monologues seem more like speeches than stories, her best moments come from large, gripping narratives involving her well-studied mother.
The joy in Thompson's production comes from the few rare moments when Michelle and Overshown are happily drawn together in charming, honest scenes where their affection is tangible. When Eugene confesses, "Kissing Alma, I was home, " you believe it.
Yellowman
Written By Dael Orlandersmith
Directed by Tazewell Thompson
To 4/18/04
Arena Stage
1101 Sixth Street SW
$40-$53
202-488-3300
www.arenastage.org
The most impressive element in Orlandersmith's indelible story is its lack of pretense: there is no presupposition that her audience will fully understand the conflicts among color lines, or the dilemmas posed by racism inside race. It isn't a safe argument, and it isn't an easy issue to tackle, but Orlandersmith never claims that she has all of the answers or knows the whole truth. Instead she simply presents an insightful, uncompromising account of the divisive degrees in racial identity and stereotype, and attempts to re-create life inside those blurred color lines.