What if we could somehow rearrange and sort through the private history of our families, reorganizing and reshaping the personal, intimate lives of our parents? Playwright-actress Leslie Ayvazian ventures to discover uncharted family territory in her world premiere of Rosemary and I at MetroStage. Ayvazian's deceptively simple story explores the complicated relationships between Julia (Ayvazian) and her parents, and the "wonderful companionship " between her opera singer mother and her female accompanist, Elizabeth. Julia must come to terms with her mother's covert sexuality and accept the relationship that defined Rosemary and Elizabeth as more than just friends.
Ayvazian, who performed her autobiographical solo piece High Dive at MetroStage last season, returns with a quiet, bashful play that tries hard not to obsess over the "L " word. MetroStage first committed to the development of Ayvazian's script in January 2003, and although the Alexandria-based theater company puts on a brave face and a "can-do " attitude, their risky choice of material may make mainstream audiences uncomfortable and squeamish. After all, when was the last time two matronly women engaged in a romantic kiss on stages across the Potomac? It's certainly a progressive choice for what can usually be described as a family theater.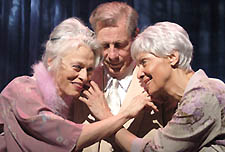 But "family " theater this is, where Julia rents a studio "to think " in — that is, to recollect and write family memories as outlined in her mother's plum-colored diary, a treasured gift from Elizabeth. As Julia attempts to re-construct the messy history of her parents' lives, each of her characters — mother, father, Elizabeth — must unwittingly obey her every command. She has their entire history at her disposal and can demand that characters enter and exit at will. This is wonderful news since the play doesn't really begin until actresses Judith Roberts and Jewell Robinson, as Rosemary and Elizabeth respectively, finally hit the stage in a sweet, sentimental swirl.
Rosemary and I
By Leslie Ayvazian
Directed by Olympia Dukakis and Nancy Robillard
To 5/9/04
MetroStage
1201 North Royal Street
Alexandria, Va.
$32-$38
1-800-494-8497
www.metrostage.org

There are talks of their lives now, some years removed from a tender kiss in Paris, from a lifetime of globe-trotting and touring together. A chance meeting at an outdoor concert finds them both widowed with daughters, and together they reminisce about their past. From this moment on Julia must reconcile her memory with the factual events found in her mother's memoirs.
Ayvazian writes with an acute sense of psyche that fellow playwrights will appreciate, though she outlines little plot development beyond this pivotal scene. Instead she constructs her script on the rudiments of a classic memory play.
Ayvazian shortchanges Julia in a few places. But through the expert co-direction of Olympia Dukakis and Nancy Robillard, the character is never allowed to wallow in self-serving soliloquies or coma-inducing monologues. The directors strive for a steady focus on Rosemary, a wife and mother struggling to remove herself from ordinary married life as much as possible.
In the hands of Roberts, it's easy to believe that this is indeed a lady who wears her tiara while she vacuums. (And why shouldn't she? After traveling the world over as a renowned opera singer, she needs permission from no one.) Rosemary remains perfectly aloof — almost childlike — as an endearing, vulnerable woman who never fully claims her sexuality.
With her sparkling eyes and felicitous sass, Jewell Robinson brings elegance and grace to Elizabeth, offering a spirited, affecting portrait of the pianist. Roberts and Robinson are refined visions in a palette of muted lavenders and grays, courtesy of costume designer Marilyn Salvatore. Composer John Hodian and vocalist Bet Williams offer original music to accompany Ayvazian's narration. Williams' lovely soprano against Hodian's haunting score strikes interesting, dramatic chords in an evening with very few visual aesthetics.
Penned along the lines of legendary partners Gertrude Stein and Alice B. Toklas, Ayvazian treats the relationship between Rosemary and Elizabeth with a cultivated sensitivity and genuine deference for all things feminine. As Julia finally orchestrates a surreal moment of truth for Elizabeth and her mother, there is a sense of cathartic relief from each of the three women.
It's a soft, subtle message that quietly lands with the weight of a feather.