"There are consequences to breaking the heart of a murdering bastard, " says Bill (David Carradine) to The Bride (Uma Thurman) during the philosophical calm before their anticipated final showdown in Kill Bill, Vol. 2. The Bride (whose name we learn is Beatrix Kiddo), a former member of Bill's Deadly Viper Assassination Squad — or DiVAS — and the mother of his child has, up to this point, spent the better part of her quest discovering what exactly those consequences are. If you're interested in discovering what extraordinary trials Beatrix has to face, you'll have to see Kill Bill, Vol. 2 for yourself.
The second half of Quentin Tarantino's split-down-the middle epic is just as wickedly entertaining as the first. Its 137 plot-packed minutes go by in a flash and before you know it, Beatrix has chop-sockied and Samurai-sworded her way through two more obstacles in her path — Bill's brother Budd (Michael Madsen), a bouncer at a grimy strip joint called the My Oh My Club, and Elle Driver (Darryl Hannah), a one-eyed banshee with an unholy sadistic streak.
Neither film works independently — you really should see the first, now available on DVD, to fully appreciate the second. Likewise, if you've seen the first, and have decided to skip the second, thinking it will be more of the same, you're missing out on the real fun — yes, fun — offered by this savagely violent yet absurdly playful tale of one woman's searing need for revenge.
Kill Bill, Vol. 2 is a blast, but its detonation is surface-only. There's no depth here, none at all. Tarantino struggles to incorporate tenderness into the fray by using the theme of motherhood, but his efforts prove hollow. He is simply incapable of making a full emotional connection with both his characters and with us. The movie's artifice is blinding, its tone ludicrously self-referential. (At one point, Beatrix quotes the movie reviews for the first film.) We're passive spectators in this oddball director's hobby of cultivating pop references from the '70s and '80s — the films he absorbed while working as a clerk in a video store — dumping them in a big cinematic blender and seeing what kind of flamboyant pulpy puree emerges.
What emerges in Vol. 2 is much less of a shocking bloodbath than in Vol. 1. Tarantino concentrates on bolstering his malnourished narrative, clarifying the motivations of both Beatrix and Bill. In some respects, Vol. 2 is a better film, overflowing with stories told by characters that captivate us with their very absurdity and yet somehow still manage to make a point. These riffs are Tarantino's trademark, his legacy, and they are, if nothing else, a joy to listen to.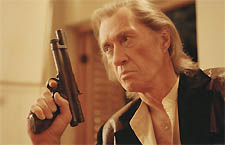 Tarantino continues to employ a hodgepodge of styles to convey the film's various "chapters. " He uses black and white when it suits him and, in one unsettling and daring moment, plunges the audience into total darkness, employing a Dolby-fortified soundtrack to magnificent effect. The set-pieces are less grand than those in Vol. 1, which may disappoint fans hoping for a battle royale to top Beatrix's insane, limb-strewn fight with the Crazy 88s or the elegant snowfield swordplay with O-Ren Ishii (Lucy Liu) at the conclusion of Vol. 1. The showpiece here is a rather brief crash-and-bash between Beatrix and Elle in a rundown trailer. The sequence, as invigorating as it is instructional (if you ever find yourself being drowned in a toilet, just flush), provides the film's most memorable moment — one sure to be buzzed about long after the film's other images have faded from memory. And the truly keyed-in will almost certainly appreciate how marvelously Tarantino evokes Hannah's most alarming moment in the 1981 sci-fi classic Blade Runner.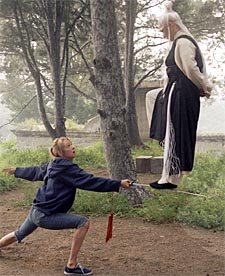 There is, of course, not one likeable character in the Kill Bill opus — which is how Tarantino, who sees himself as a bad boy of cinema, wants it. Everyone is corrupted or corruptible. And everyone has a murderous agenda. Tarantino offsets the venom with a antidotal infusion of off-kilter humor. Kill Bill, Vol. 2 is brashly funny, its most hilarious punchline arising at the tail end of a standoff between Beatrix and a nameless assassin posing as a hotel hospitality clerk.
KILL BILL, VOL. 2
Directed by Quentin Tarantino
Starring Uma Thurman, David Carradine, and Darryl Hannah
Rated R
137 Minutes
Area Theatres


It's a pity Miramax didn't let Tarantino release Kill Bill as a single four-hour film. Would it have been a chore to sit through? Possibly. Would it have made for a richer story-arc experience? Most likely. Would it have garnered significantly less money, in both box office receipts and subsequent DVD sales? No question. Greed is the motivating factor behind the divide — but the decision seems to have paid off handsomely for both Miramax and Tarantino (the film was number one at the box office last week).
As for us? Well, for those of us who like this kind of cinematic chicanery, we get two incredibly enjoyable rides. And we get to look forward to the day when the two films are united in a single special DVD compilation complete with, one can only hope, hours upon hours upon hours of thrilling, bloody extras.