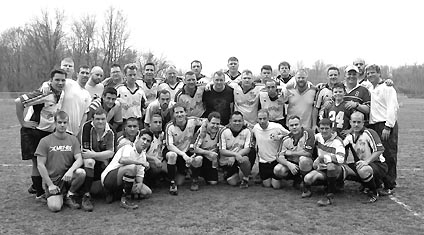 Members of the Renegades at a recent practice
Mission: To learn, teach and play rugby.
Founded: 1998
Members: 80 active members
How to Join: Contact recruitment chair James Carstensen by visiting the group's website at www.dcrugby.com. Dues are $100 a year for active members.
Background: "I fell in love with [rugby] pretty quickly," Carstensen says. Although he had never played the game before joining, he says the Renegades is very welcoming for new people: "They have a lot of enthusiasm for learning." It may be one of the few rugby clubs to actively recruit gay men but that has never been the sole focus of the group. "Teams are very respectful of us as a rugby club", he says. "When we start winning there isn't much to laugh about."
Contact: Visit www.dcrugby.com for more information.
Next Event: Practice tonight from 6:45 to 8:45 p.m. at Stead Field on P Street between 16th and 17th Streets NW.