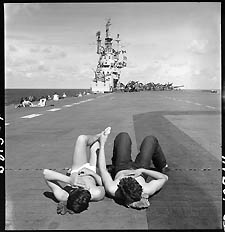 Photo: National Archives
and Records Administration
"Most of the good stuff is in Greenbelt, " says Evan Bachner. Of course, he's talking about the collection of World War II photographs housed at the National Archives facility in the Maryland suburb, not some of the more esoteric aspects of the D.C. area. But when Bachner, 47, says there's good stuff out there, he knows what he's talking about.
For over six years, Bachner sifted through more than 400,000 photographs at the Archives in the course of creating his new book, At Ease: Navy Men of World War II (Harry N. Abrams, $35), a collection of photographs comprising a resplendent portrait of the young men who would go on to form the American "Greatest Generation. "
"These are our fathers and grandfathers, " Bachner says. "They were young boys, and they went out very unambiguously to save the world, but they thought of it as their responsibility. And here they were in the South Pacific and they're acting like boys. "
For the modern gay sensibility, the photographs from At Ease evoke the homoerotic style of Bruce Weber and Abercrombie & Fitch, as young, lithe soldiers casually drape arms over shoulders and take naps with their buddies as pillows. While aesthetically pleasing from that perspective, it also misses the point.
"Clearly when you see them you think of Weber… or [David] LaChapelle's Diesel [photography], " Bachner says. "But these are the originals, done without irony. We think of them in homoerotic terms, but they're not. They're just photographs. "
The types moments captured in At Ease are unlikely to be caught in this way again, given the level of self-awareness about art and intimacy that suffuses our present culture.
"The innocence that is required just doesn't exist anymore, " he says.
A born-and-bred Manhattanite, Bachner's interest in WWII era photography was first piqued when he came across a print by Horace Bristol at the Brooklyn Museum of Art in 1997. In his research, he discovered that Bristol was a pioneering photojournalist who worked with legends such as Ansel Adams and Dorothea Lange, and published his work in Life and Fortune.
This discovery led to the Archives collection of the Naval Aviation Photographic Unit, which under the leadership of Edward J. Steichen — another giant of Twentieth Century photography — created the images found in At Ease.
Currently traveling to promote his book, amateur photographer Bachner is working on still more projects from the treasure trove at the Archives, where he says many more books await among the photographs.
"We live in a Google world now, " he says. "But Google only shows you what someone has discovered and been interested enough to put on a web page. There's no substitute for original research. "
Evan Bachner will sign copies of At Ease next Thursday, May 20, at 7 p.m. at Lambda Rising, 1625 Connecticut Avenue NW. Call 202-462-6969.