Spring is definitely here. People are on the streets, the trees are budding green, and bursts of color brighten the ground. May is flirting with us, winking with sunshine and warm weather, letting us know that it's time for the sap to rise. Romance, along with pollen, is in the air.
Which means it's time for dates, which, ultimately, require only a few things: two people, good conversation, and a place to sit down and eat.
Start off on a high note at the new Bangkok Joe's (3000 K Street NW), which has transformed Georgetown's Waterfront from a reliable site for gorgeous views, bad food, and stereotypical drunks into a surefire destination for a stylish, inventive meal. High ceilings, deep red walls and modern fixtures complement stunning art and three rows of semi-private booths — the design of the space alone will give you plenty to discuss with your romantic target.
Bangkok Joe's
202-333-4422
Jaleo
202-628-7949
Rosa Mexicana
202-783-5522
Kuna
202-797-7908
Love Café
202-588-7100
Make the date a team-effort and stick to the dumplings, wontons, buns and rolls, assembling a unique shared-menu for two. The Lobster 'n Pinenut Dumplings, tangy and sweet Foie Gras 'n Shrimp Dumplings, the Crispy Crab Finger Roll and Winter Squash Potstickers are all creative interpretations of classic Asian fare. The entrées are equally well-executed, but not enticing enough to pull you away from the playful small plates. Instead, combine your starters with a bowl of beef, pork, or chicken-fried rice drizzled with rock-star spicy-basil sauce. A lot of the flavors here are delicate, and the spicier sauce on the rice will provide an extra punch. After dinner, take a long walk along the waterfront to bring the date to a close.
Another option for a playful, interactive first date is to hit one of the tapas bars now rustling their way through D.C. There's the always classic dig-in-and-talk-about-it fun of Jaleo (480 7th Street NW), although if your goal is intimate conversation, Jaleo's vibrant, social energy might be a bit much. Focus on sharing food you can grab at: A skewer of lightly spicy chorizo on a pillow of blissfully salty mashed potatoes; whole squid in garlic and parsley, lightly crisped and sparkling with flavor; the lightly fried potatoes (Patatas bravas) with spicy tomato sauce and aioli that create velvety bliss on the tongue; and the delectable shrimp grilled with garlic, so fresh they will snap at you from the plate.
For a higher-end version of a similar idea, hop up the street to D.C.'s latest New York import, Rosa Mexicana (575 7th Street, NW 202-783-5522), with its luscious, blue mosaic-studded dining room and a Guacamole en Molcajete that will make you want to cry. It's prepared at your table, ensuring a sparklingly fresh combination of flavors — creamy chunks of fresh avocado, ripe tomato and garlic — and a mini-show to enjoy. Entrees like the Pato en Mole de Frutos (pan-seared duck with spinach, pineapples, and a chili-fruit sauce), or the massive plate of short ribs, while delicious, are priced for Manhattan rather than D.C. Stick to appetizers and, if you're in the mood, share an eye-popping tequila flight or pomegranate margaritas.
Finally, U Street offers a passage into northern Italy through Kuna's unassuming doors. Kuna (1324 U Street NW) is a great place for a first date, though you might want to make a reservation, as more and more people are discovering its rustic, funky charm. Kuna specializes in Italian "farmhouse " cooking and friendliness, offering a warm welcome and, usually, a complimentary glass of wine if there's a wait. The upstairs dining area is simple, small and candle-lit enough that you can get to know each other while imagining yourselves on an Italian honeymoon. Try the basic, classic Ziti Telephono with mozzarella, basil and marinara sauce or — better yet — one of two Farmhouse Salads. The baby lamb chop and grilled endive salad features bitter greens, asparagus, hard boiled eggs and a near-perfect dressing that blends chianti, balsamic and rangy, flavorful bacon. Either makes a light, but robust, meal. Finally, let the host guide you toward his favorite wines.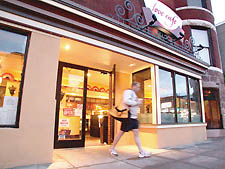 Love Cafe
End your evening of new romance at Love Café (1501 U Street NW), the coziest, friendliest-staff-on-the-planet coffee shop owned by Warren Brown (who also owns the nearby CakeLove). Treat yourselves to classic chocolate Cupcakes with lemon-buttercream frosting or a "Gingerly " crunchy foot — a tiny, crunchy pound cake with ginger, molasses, and a perfect not-too-sweet blend of spices. Round it out with two heavy mugs of hot chocolate or café au lait. Split one dessert with two forks.
Cutesy? Sure, but never mind — this is about romance, after all.