MOVIE-CUM-MUSICAL MADNESSÂ… The runaway success of Mel Brooks' The Producers and John Waters' Hairspray has ushered in the trend of turning Hollywood movies into Broadway musicals. The most high-profile movie-cum-musical of the moment? Legally Blonde. That's right, Elle Woods is set to conquer Broadway just as perkily as she did Harvard and Capitol Hill in the movies. Legally Blonde – The Musical is more than two years away from hitting the stage, according to the New York Times, since the music and lyrics are just now being written. Casting is still unknown, though it seems unlikely that Reese Witherspoon will reprise the role of Woods — we don't even know if she can sing, for starters. But wouldn't it be a hoot if she did?
Also being converted into a Broadway musical is The Color Purple. Alice Walker's Pulitzer Prize-winning novel first inspired filmmaker Steven Spielberg in 1995. Now, it's inspired producer Scott Sanders (Elaine Stritch at Liberty) to adapt it for the stage. The score is being composed from scratch, which in its way is too bad, considering they could have just adapted Quincy Jones' exceptional movie score. Then again, with pop songwriters Brenda Russell ("Get Here"), Allee Willis (the Friends theme) and Stephen Bray ("Papa Don't Preach") doing the honors, the score should be plenty noteworthy on its own. The musical is scheduled to premiere this September in Atlanta before a planned move to Broadway.
And finally, Billy Elliot: The Musical will open next spring in London. Elton John has written the score, and all those behind the 2000 critically lauded film will return, including director Stephen Daldry and writer (and now lyricist) Lee HallÂ…
HOLLYWOOD SALUTES MUSIC LEGENDSÂ… Two iconic pop music stars are getting the Hollywood biopic treatment. First up, Ray Charles, who died last month. Ray, due in October, will trace Charles' life in much the same fashion as De-Lovely traces the life of Cole Porter, through the songwriter's own songs and lyrics. One example, according to Billboard: Charles' hit "Hit the Road Jack" will play during a scene in which Ray has a fight with his mistress Margie. Billboard says the film, directed and co-written by Taylor Hackford (An Officer and a Gentleman), is already garnering Oscar buzz for the actor who plays Ray. And who is that? Why it's Jamie Foxx, the budding singer who — did you know? — composed several songs featured in the football movie Any Given Sunday. Foxx did much of his own singing in the film, according to Billboard, though Charles, before he died, re-recorded many of his classic songs to appear on the film's soundtrack.
Next year, Alecia Moore — that's Pink to you and me — will star as Janis Joplin in the grandly named biopic, The Gospel According to Janis, from director Penelope Spheeris (Wayne's World). "[Pink] can sing Janis with her heart and soul without it being pure mimicry. It's something very raw and immediate," Spheeris told Rolling StoneÂ…
REALITY IN EXCESS, OR INXSÂ… Rockists of America, fight back! Rockists, those folks who disdain if not outright hate R&B and perky pop — they're the people who led the backlash against boy bands and Britney last decade, and proclaimed "death to disco" decades before that — are now gearing up for an American Idol-inspired backlash. Rock Star is reality TV producer Mark Burnett's answer to American Idol. The creator of Survivor and The Apprentice, Burnett will launch this show on CBS next year, in which viewers will help select a lead singer for the Australian band INXS, which has been without a singer since Michael Hutchence died in 1997. Of course, INXS was as influenced by American pop as American rock, so the show has considerable appeal to us non-rockists too. The winner will record a new album and tour around the world with the band, which hasn't had a hit single or album in well over a decade — so the pressure is on the band, not just the new singer, to make this workÂ…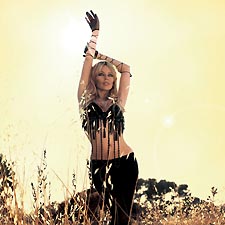 Kylie Minogue
GRAMMY'S DANCE RECOGNITIONÂ… Dance music has only been officially recognized by the National Academy of Recording Arts and Sciences — the Grammys — since 1997. And the singles-oriented genre has been recognized only for its singles at the preeminent awards show — that is, until next year, or rather this year. Organizers have announced the addition of a new category, best electronic/dance album, to debut at the 47th annual Grammys. Who might be the nominees for the inaugural edition of the award? Well, if it releases its next album before the 2004 Grammy cutoff, September 30, New Order. The band is prepping the next album to be as dance-oriented as was its original output in the '80s, and not at all like its recent guitar-heavy efforts, according to Rolling Stone. Even if that doesn't happen though, Kylie Minogue's Body Language will be a stellar contender for the crownÂ…