It was only a matter of time until every eastern European nation's cuisine showed up in Washington. And in August of last year, Bulgaria got its due with the arrival of Café Sofia.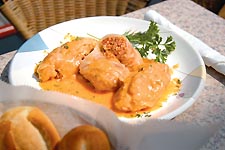 Stuffed cabbage rolls
Located in Adams Morgan, on Columbia Road, this little place (which replaced Rocky's Café) is as quirky as it is charming. On our first visit Frank Sinatra favorites played in the background — more appropriate than the loud salsa beat greeting us on another visit. Oddly, it wasn't possible to identify a single feature of the décor of Café Sofia that has any tie to Bulgaria — with the possible exception of the lighting, which is pure 1950s Communist-bloc chic.
A small non-smoking area in the front is separated from a much larger smoking area byÂ… nothing — which is to say the cafe has a decidedly eastern European attitude about cigarettes. As a veteran traveler to such places as Warsaw, Belgrade and Budapest, I wasn't expecting haut cuisine here. Meat and potatoes with a homespun ethnic flourish or two have been just fine, thank you. But even that is rather thin at Café Sofia.
Service is attentive yet casual. Borrowing a feature from some Asian restaurants, the menu is supplemented by a separate picture book representing what most of the selections will look like. It's hardly necessary since few of the menu items could be considered exotic, but it's probably worth taking a moment to flip through the photos anyway.
Appetizers don't receive the thoughtful preparation devoted to entrées. Stuffed grape leaves are so uninspired they seem to have been extracted from a jar ordered from a restaurant supplier. Ditto for the fried calamari, which screams "Breaded, Frozen and Ready For Frying." Far better are the banitza, baked phyllo pastry with a cheese and egg filling nicely accented by yogurt sauce. Among the appetizers, knackwurst punched up with spicy mustard comes closest to conjuring an eastern European flavor.
Main courses are of the large and filling variety. Sarmi — sour cabbage rolls stuffed with ground beef and rice in a tomato sauce — are full of flavor. You can almost imagine them having been prepared by a plump old woman, a babushka on her head, slaving over a hot stove.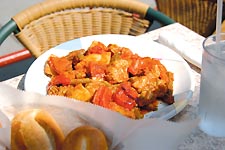 Giuvech
Another house specialty, giuvech, is a spicy stew-like concoction of pork loin, potatoes and okra. It hits just the right note of home-cooked authenticity.
An entrée of grilled pork loin was, on the night I ordered it, dried out from overcooking. Luckily it was saved by liutenitza, a catsup-like condiment studded with finely chopped vegetables. With a coastline on the Black Sea, Bulgarians enjoy seafood almost as much as meat and potatoes. Baked trout and salmon here are moist and very fresh.
Café Sofia
1817 Columbia Road NW
202-387-5656
Appetizers: $5-$8
Entrées: $10-$15
Desserts: $3-$5
Open daily from
11:30am to 10pm

Desserts are a bit uneven. A very accomplished crème caramel tops the list. Not far behind is a creamy rice pudding that's a homemade as they get. Crepes, filled with a choice of fruit preserves, honey or chocolate sauce, taste of nothing but the canned fillings spooned into them. Many wine lovers already know that Bulgaria is turning out some lovely, inexpensive wines, particularly reds. A small but interesting assortment of both whites and reds are available here, but you'll do best to stick to the premium offerings.
I wanted to like Café Sofia more. But it doesn't seem true enough to its roots — or imaginative enough in its adaptations to our culture — to merit much excitement. Nevertheless, you'll get a hearty meal at a reasonable price with good service. And on most evenings, isn't that just what you're probably looking for?
Send comments and suggestions to dgarver@metroweekly.com.