It's an unassuming place, Stead Park, bounded on two sides by streets that define to a large extent the center of the gay and lesbian community in Washington, 17th and P. Unless you've shot some hoops or scrummed during a rugby practice, you may never have given much thought to this city park as the place where a more concrete form of community may take form.
The D.C. Center for Gay, Lesbian, Bisexual and Transgender People hopes to make Stead Field home to a first for the city — a newly constructed, multi-purpose building that would serve the needs of a diverse and growing GLBT community as well as the neighborhood that surrounds it. Still in the planning stages, the group has an impressive roster of community organizations and leaders supporting their efforts, but still faces the task of bringing along a community and a neighborhood for a major undertaking in its midst.
Patrick Menasco, the president of the Center, is spearheading negotiations with the city government to gain a lease on the park for the project and has become one of the Center's most vocal and visible advocates. Born and raised in Louisiana, the 34-year-old lawyer moved to D.C. in 1995, where he found a gay community that was difficult to break into, but worth the effort.
Menasco
"I like to say D.C.'s cold on the outside and warm on the inside," he says, smiling. "There are a lot of friendly people here. It's just difficult sometimes to meet them."
Easing that effort and forging closer ties within the GLBT community is an ongoing theme as Menasco describes the vision of the proposed Center and how they hope to make it a reality.
METRO WEEKLY: When did you first get involved with the community center effort?
PATRICK MENASCO: My partner and I and a few friends started the Cherry Fund years ago, which picked up from an earlier group that was running the Cherry parties. Hunter Carter, who was then the general counsel for Whitman-Walker Clinic, brought us the idea of the community center: Why don't we take this money we've raised and start earmarking some of it for a community center since we're one of the few major metropolitan areas in the country without one? And so we did.
When Cherry had raised about $300,000 for the community center, the Fund commissioned a marketing study to find out the community's thoughts on the Center: what they wanted to see, whether they wanted it, and whether they would support it, particularly in light of past community center failures here in Washington.
The study was published in January of 2002 and over 90 percent of the people surveyed said they wanted a center and would support it financially. So [that was] a landslide of popular support for the Center. But there was still no organized effort to form the Center. I was leaving the Cherry Fund at the time, and the opportunity presented itself right then and there to organize a formal effort for the Center. I contacted some of the people who were involved in the group that helped shepherd the study to fruition, and many of them were interested in continuing the effort.
MW: When you talk about community support for a center, what do the people surveyed expect to get out of it?
MENASCO: It's really a two-part answer. There is the programmatic side to the community center — we would like to have a multipurpose arts, theater and presentation room. We'd like to have a screening room for films for One in Ten and other community groups. We'd like to have lower cost office space for small non-profit charities serving the gay community. We'd like to have an indoor gym for wintertime recreation. We'd like to have outdoor space for outdoor recreation. Daycare for children — gay parents and straight parents in this area have a great need for day care. A lot of people want to see education and social opportunities, particularly for people who are new to the gay community, as well as seniors programs. So there's a lot of opportunity for people to satisfy or pursue their interests through a community center.
The overwhelming majority of people we speak with think that the purpose of the community center is self-evident — to strengthen and enhance the community. People say that Washington's a very segmented place, and parts of it are incredibly well-organized. Whitman-Walker does a great job with the HIV/AIDS community, for example. And you have One-in-Ten, the Mautner Project, and other excellent organizations. But they're serving particular constituencies. You see that socially as well — you have particular groups of people that are very well formed, but there's not a lot of interaction between those groups. There are not a lot of things holding them together in the community for the benefits that come from having a community, such as being able to react to threats from the outside. We can respond much better as a whole community, and we can work better as a whole community rather than a fragmented community. The community center is a method for bringing people together that may not otherwise come together.
Even if one doesn't see a particular need in his or her own life for a community center, a community center will still add value. It will be a place for One-in-Ten to show films, for gay businesspersons to meet, for families to seek daycare. If you live in the neighborhood, you will benefit from the underground parking garage whether you own a car or not, because it will help alleviate congestion in the street. And if you have a car, certainly you could use the parking lot. If you own a business, it will help your customers come here. So there's a lot of value being added to the neighborhood by having a community center there.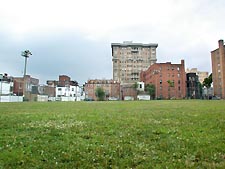 Stead Park
MW: A number of community needs that you mention, such as recreation and a gym, are being met through a number of different venues. How do you plan for the Center to meet some of these needs in a different or unique way?
MENASCO: The most unique thing about the Center is that it will provide one space for groups to meet in. There are a variety of groups that meet regularly throughout the city, going from church to school to church to home to school. They get space as it comes. It would be great for them to have one space that they could sign up for on a regular basis, because the harder it is to get together, the more likely it is your group won't survive.
We're going to provide one-stop shopping for space, and that's probably one of the biggest components of potential success for the Center. If you have a need and you don't have an alternative available, the Center's going to be one place that anyone in the GLBT community can go to. And we plan on having a partnership with the local neighborhood, so you don't have to be gay to use the Center. It's going to be open to the public, but it will be run by and for the GLBT community.
Another thing that's unique to the Center is parking. There are very few parking lots available in Dupont, and we would provide significant parking for local residents, as well as some parking for local businesses, and a few spaces for the Center itself.
MW: What's the capacity of the parking garage as planned?
MENASCO: We hope to have three levels at 180 per level for 540 total.
MW: You're talking about a lot of different activities possibly going on at once — aren't you possibly going to be generating more traffic and a need for more parking spaces than it would be able to handle?
MENASCO: I don't think so. An astounding number of cars — around 20,000 — pass by 17th and P Streets every day. We're talking about a parking garage of 540 cars — this is subject to negotiation with the ANC and the local neighborhood — but right now we foresee the majority of the parking spaces being utilized by local residents, so it's actually getting cars off the street that are currently on the street. With some spaces for local businesses as well you would get cars that would otherwise be parking on the street or parking illegally. We do want people coming to utilize that park — [currently] it's an underutilized facility. But I really don't see how the small volume of people that I think it will actually add could possibly make an impact given how many people already utilize the [entire] area.
MW: You mentioned the involvement of many different people from the GLBT community. Is the local African-American gay community invested in the development of a community center as proposed, or is this seen as something focused on serving the 17th Street-Dupont Circle gay community?
MENASCO: One of the inherent problems in locating the Center is that wherever you [put it], you have to fight against the perception that you're only serving that local community. If it's in Northwest, you're serving the Northwest community, and not the Southeast community. If you put it in Southeast, then you're not serving the Northwest community. In our survey most respondents said it should be in or near Dupont circle — the historical origins of the gay community are in Dupont circle, and it's metro accessible so people can come in from all over the city, as well as northern Virginia and southern Maryland. Now, it's not unanimous popular support, but in balancing all the various constituencies, in balancing accessibility, and balancing available space and a location that will guarantee the largest amount of financial support, Dupont Circle's really it.
That creates a challenge for us to ensure that populations that may be underrepresented in terms of residency in Northwest are made to feel and to be full partners in the community center. On our board, we have Farrah Darbouze, who represents youth as well as the African-American community, and Neil Alexander, the chief human rights judge for the District of Columbia and a long-standing member of the African-American and GLBT communities. We're plugged into the right people to reach the African-American community and we have a lot of work ahead of us to ensure that that partnership continues. We will continue to do outreach efforts and be involved in the African-American community.
MW: As the gay community has grown it's gotten a lot more diffused, the center of the gay community has moved and has drifted eastward somewhat — onto 17th street and now into Logan Circle. Also, GLBT people feel much more comfortable moving into neighborhoods through the city and the suburbs. Is having a Dupont-centered location for services for the GLBT community something that can hold up over the long term as those people become more and more integrated throughout the area?
MENASCO: I absolutely do think that there will always be a need for community because we are a minority. Because even as we gain political and social acceptance among the majority population, the minute we stop fighting, the minute we stop holding our community together, is the minute we start to lose the things that we've won.
Civil rights acceptance, especially as a minority, is not something that's guaranteed. Before the Supreme Court decision on sodomy, the majority of people in the polls were saying nice things about gays: we should be left alone, we should have job rights and not be fired just because we're gay. After that decision, you got this backlash from the majority. All of the sudden they're not so favorable on our work rights, they're not so favorable on us being left alone.
What would happen if we were spread throughout the country in suburbs here and suburbs there, and there wasn't any organized gay community? How would we be able to fight that? We wouldn't. So while the political organizations such as the Human Rights Campaign and the Victory Fund are taking care of the political side, there is always going to be a need for us to take care of the community side. We need someplace that is not just a social crisis center, but a place for people to live their lives normally — to recreate, to socialize, to pursue their artistic and educational desires. As a minority, we're always going to need that because no one else is going to provide it for us. And the minute we stop fighting for it, someone's going to take it away.
MW: Are you counting on the participation of suburban GLBT organizations to help keep the Center afloat?
MENASCO: Absolutely. The subname for the Center is the "Home for GLBT in Metro D.C." We want to partner with southern Maryland and northern Virginia because this center is a large enough effort that they can benefit from it, whether through an information clearinghouse on the web or visiting the Center [for programs].
MW: By pulling in people from those communities for services at the Center in D.C., is there any danger in slowing the development of infrastructure for those suburban GLBT communities?
MENASCO: I don't think so, because our mission is to build and strengthen and celebrate community. We're not a political organization, although we are certainly looking out for the general welfare of the community. We are an advocate for the community as a whole. If there's a particular issue or shared concern that's more localized in southern Maryland, I seriously doubt that having an arts, culture and recreation center in downtown Washington where those people can come and pursue those types of interests is going to prevent them from organizing.
And I don't think [it will deter] financially, either. One of the questions is whether the Center is going to be a financial drain on other organizations. Every professional fundraiser we talk to says "absolutely not." The community center is a new effort, it's going to attract new money. Most of the money we actually foresee coming from the straight community, believe it or not — from organizations, foundations and individual donors who are interested in urban reclamation and recreational and educational opportunities for urban youth.
MW: You say that the Center can attract new money because it's a new effort. What about when it's no longer new? When looking at long-term, sustained funding is it possible that it will become a drain on other organizations?
MENASCO: We intend on building a large endowment for the Center so that we can pay for all or the majority of our annual expenses from the endowment.
MW: How is this effort different from previous efforts to start a D.C. community center?
MENASCO: The prior efforts were smaller. They did not have the breadth of programming and internal/external space that we plan on having. Because of their limited scope, they were unable to appeal to the broad variety of people that we plan on appealing to. Also, many of those earlier efforts were in the eighties and early nineties, when the gay community was dedicating a vast majority of its resources to the AIDS epidemic, taking care of our own since no one else was.
We have the luxury these days of funding other efforts for the social good. I think we're going to succeed because we're a much larger effort. We appeal to a broader variety of people and therefore receive broader support. We're going to have dynamic or different funding possibilities, including the parking garage. We're going to have enough space to lease office space to other charity groups so they can help to help underwrite the cost of the Center, and we'll do it on a sliding scale. We want to be as free as possible, certainly for individuals and less formal groups. I think that we have a good plan in place — very few things are being left to chance.
MW: Given the ongoing funding problems that many GLBT and AIDS organizations are facing — including public funding cuts for organizations like Metro TeenAIDS and SMYAL — is this a time to be looking at a this kind of effort when a lot of community groups are struggling to find the money to provide their services?
MENASCO: First, I don't think that we would be taking any money from other organizations, I really don't. We're not duplicating their efforts. Their constituencies are going to support them because they care about them or because they have in place the lobbied effort from public sources to support them. We're a new effort. We wouldn't be a competing AIDS service organization, for example, where people who are concerned about that issue would start giving to us and take money away from AIDS organizations.
Cornelius Baker [the executive director] of Whitman-Walker is on our advisory board. So is Kathleen DeBold, [executive director] of the Mautner Project. Those are two of the largest, most respected organizations in the city. The pledges we've already received — and we've just started our formal fundraising — are from people who don't give significant amounts of money to other organizations. Since we're not going to duplicate the services, we're not in direct competition with other organizations trying to find money within the gay community.
MW: As the community grows and its needs change over time, are there any concerns that what seems to be a need now may no longer be a community need by the time you're able to build the Center and implement programs?
MENASCO: Sure. But the nice thing about the Center is that it's a multi-purpose building. One [use] may phase out, another may grow beyond the Center's ability to hold it, but somebody else will come in behind them. We're going to provide a building, hopefully, that will serve a variety of different interests, and the specific type of interests will vary throughout the years with the constituency. It's a flexible project and the stuff we're doing — education, culture, arts, recreation, physical education — are the things that people do. And people aren't going to stop doing them.
MW: Why the choice to build as opposed to buying and refitting an existing structure?
MENASCO: It's much cheaper for us to lease property from the city for a hundred dollars a year than it is for us to pay five million dollars for a much smaller space. That's how much, for example, the mission at 14th and R Streets was going for. To rehabilitate that building would cost almost twice what it would cost to construct the Center, including the parking garage, and at the end of the day we wouldn't have any green space.
MW: When you talk to community center skeptics, what's the most common thing that they bring up?
MENASCO: Well, it's hard to find skeptics. There are people who have questioned the need for a community center because the community is well-developed — we have all these great organizations doing great work. The answer to that is there's not a large organized effort trying to bring the community as a whole together. Everyone's serving these individual constituencies and it's like a patchwork quilt that's not put together — you have great pieces to the quilt but no one's putting them together. So ours is a little bit of a different model. I would challenge anyone who says that we don't have a need for it, that this community is doing well it's cohesive enough, there's enough integration in the community, there's enough sharing in the community that we can continue to grow and become stronger as a community. I don't agree with that. I think that's the answer to that. The other question is about the location. No matter where you put it, you have the challenge of making sure that organizations or individuals that don't live right next door feel welcome and feel a part of it. That's the reason we have to operate it well — to do a good job. And that's what we plan on doing.
For more information about the Washington D.C. Center for Gay, Lesbian, Bisexual and Transgender People visit www.thedccenter.org. On Wednesday, July 21, the Center will present a screening of Sordid Lives, at Stead Park. Admission is free, but donations are welcome. Bring your own chairs or blankets.