EVERYBODY DANCE NOWÂ… Martha Wash, the Two Tons of Fun/Weather Girls woman (and Sylvester's "Mighty Real" backup singer) with certainly one of the most booming and distinctive voices in the history of dance music, recalls the moment she heard her vocals go uncredited for the first time — it wouldn't be the last. Of course, the most famous example is C+C Music Factory's "Gonna Make You Sweat (Everybody Dance Now)," which was credited to her only belatedly — after she sued. (And by the by, she actually hated that track, since she was forced to sing, almost shout, it an octave higher than her normal register.) It was the late '80s, when dance music briefly returned to the mainstream post-disco.
"I was in my hotel room when Black Box's 'Everybody Everybody' came on the television," Wash says. But it wasn't her image on the screen, even though it was her voice. Instead, an "alleged woman" — the rumor has it she was really a he in drag — was lip-synching to Wash, while dancing and prancing around in the video.
Wash's recounting of that experience was just one of many highlights washed up, so to speak, at Billboard Magazine's 11th Annual Dance Music Summit held last week. It's the dance music industry's second biggest confab of the year, after Miami's Winter Music Conference, and it attracts a more serious set of danceheads. For the summit, the leading denizens in dance sit — they don't dance — for panel discussions that assess the state of the genre and of the industry, as well as explore their creative processes and their past. These denizens come from behind the scenes, this year including Queer as Folk's music supervisor, Washington's Scott Henry of Buzzlife Productions, and record executives from many of the major labels and most of the boutiques. And they come from behind the turntables: D.C.'s own Richard Morel, Victor Calderone and the legendary New York gay house heads Frankie Knuckles and David Morales. To say nothing of the world's reigning DJs of the moment, the Dutch Tiesto and the German Paul van Dyk. Each sat for special Q&A sessions at the Summit.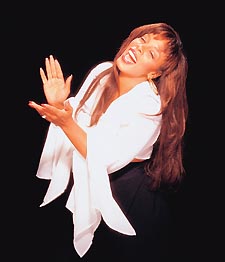 Donna Summer
And, of course, there are those from behind the microphone, the singers and musicians: Morel again, as well as Amber, Ultra Naté and Wash, the latter two of whom served on a panel called (no joke) "On Your Knees: Hero Worship." Actually, it was originally called the even more fancifully farcical — though oddly better — "On Your Knees: Diva Worship." Never mind that the biggest "diva" in dance, Donna Summer, was physically absent from the whole Summit shebang (though from one panel to the next though, her influence was omnipresent). Never mind that Amber, who served on a panel also labeled a fancifully farcical "The Billboard Master Class," and Ultra Naté haven't had more than one or two big hits. That's the case even though they are still making music that often deserves wider attention, including upcoming albums from both. And with Star 69 Records set to release a slew of new and promising remixes of her biggest hit, 1998's "Free," Naté will likely be heard all over again this fall, at least on the dance floor.
And never mind that other "divas" on the panel included the barely-known-on-her-own Emma "Baby Spice" Bunton or newcomer Esthero. Bunton and Esthero were the stars of the panel, providing candid commentary about the music business and especially their own approaches to writing music. It's encouraging to know we'll probably hear more from both of them soon, since they're on major labels. What a rare notion that is for dance artists these days! (Esthero's new track "O.G. Bitch" is a beguilingly caustic track that recalls Nelly Furtado.) But it's beyond premature to call them "heros" and few are yet worthy of the overplayed term "divas"Â…
REAL DIVAS AND HEROS FEEL LOVEÂ… True diva Wash also told the crowd for her panel that the writers behind her hit "It's Raining Men" practically begged her and her Two Tons of Fun/Weather Girls partner Izora Rhodes Armstead — who sadly died the week before the Summit — to record the song, after Summer and Diana Ross had already turned them down. And true hero Giorgio Moroder, the man behind pretty much all of Summer's biggest hits — not to mention the revolutionary Midnight Express soundtrack — told the crowd assembled for his panel, appropriately named "The Pioneers of Dance/Electronic Music," that Summer didn't initially want to sing her best hit either, "I Feel Love." "She thought they should find a different singer, though she acquiesced to him recording a demo with her voice. Thankfully, he surreptitiously shopped the demo around to New York DJs, who instantly loved the track. Co-panelist and "house godfather" Frankie Knuckles attested to that, saying he still remembers the day he first heard the tune, as well as Summer/Moroder's breakout "Love To Love You Baby." Summer finally allowed Moroder (and his producing partner Pete Bellotte) to release the tune, to the blissful sing-along sighs of us allÂ…