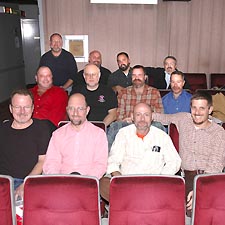 Members of the D.C. Movie Bears
ORGANIZATIONAL MISSION: Founded in 2002 as a social activity group for gay/bisexual movie-enthusiast men and their friends in the D.C. metropolitan area.
GENERAL DESCRIPTION OF THE GROUP'S MOST COMMON ACTIVITIES: With more than 350 members, the group meets weekly, usually on Wednesday evenings, at a local theater for a first-run movie. The movie is regularly preceded or followed by socializing at a nearby restaurant or bar.
HOW TO JOIN: Join the group online at groups.yahoo.com/group/dcmoviebears. Membership will automatically generate e-mail announcements about upcoming meetings.
BACKGROUND: When John McNett moved to the D.C. area from Seattle in 2001 to join his partner, Stephen Cohen, he found himself missing an old pastime. "There was a group of guys in Seattle, and we would get together at a pub," McNett explains. "But the bar closed. Since we could drink beer any night of the week, I suggested an alternative." Thus, the Seattle Movie Bears club was born. Cohen was as eager as McNett to bring the idea east, despite his confession that he's more of an "otter" than a "bear." Hairy or not, it's Cohen that spends about five hours every week on the club, researching critic reviews, checking movie listings, etc. Cohen and McNett say each weekly outing attracts about 10 of the group's members every week, they still work on growing their movie-going network.
"We've made up sort of business cards [for D.C. Movie Bears]," says Cohen. "If we go to bear happy hour [and] we meet people who seem interested, we'll give them a card and invite them."
NEXT EVENT: D.C. Movie Bears will see Team America: World Police on Wednesday, Oct. 27. Time and location will be announced closer to the date.