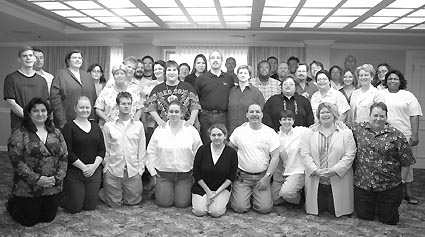 LEAGUE members at a recent national leadership meeting
Organizational Mission: LEAGUE at AT&T aims to lead, shape and change the workplace, the communities, and the world in which we live. The mission is coupled with a vision statement championing success through pride, visibility and equality.
Year Founded: 1987
Number of Members: Approximately 40 in the local chapter.
Common Activities: The group's website acts as a jobs-referral resource, as well as a bulletin board for members. The local chapter, which covers D.C., Delaware, Maryland, Pennsylvania and Virginia, meets monthly via conference call.
How to Join: AT&T employees, contractors and retirees interested in joining LEAGUE should call 703-713-7820.
Background: John Klenert, founder of the local LEAGUE chapter, says the impetus to organize followed the 1987 March on Washington for Lesbian and Gay Rights. "The time was right," says Klenert. "The first chapter had formed in Denver — we call it the 'mother chapter' — and word was spreading." Klenert said the D.C.-area chapter began with about 100 members, at a time when AT&T was a much larger company. In the years since, the company's offshoots such as Lucent Technologies and NCR Corporation have created gay-employee chapters of their own. Still, LEAGUE at AT&T claims the title to the nation's "first and largest gay employee business resource group."
Contact: Visit www.league-att.org, or call 703-713-7820.
Recent Event: LEAGUE at AT&T concluded its national leadership conference Sept. 26 in Washington, D.C. The gathering brought about 50 national LEAGUE at AT&T members together to plot a unified path for the next year.