Drinking a delicious, slushy smoothie is a delightful thing. Marketing it to the masses is a whole other bowl of fruit. And that's just what the seasoned advertising pros attempt in Rob Ackerman's Tabletop, a quirky expedition into the highly-competitive, cutthroat world of pushing the almighty American product. This time the commercial spot features the Hero, a bright pink smoothie filled with all the promise of new youth, new health, and new levels of awareness. In essence, if you swirl down sixteen sugary ounces of the Hero, your life will be ten times better, no doubt.
Too bad the luscious frozen concoction won't cooperate.
Props master Jeffrey can't get the perfect pour, and Marcus, the ad's megalomaniac director, ain't happy. "Creamier! Smoother! " he barks to the production staff, all of whom lust after the perfect "swirl, " that ideal cup of smoothie with the idyllic cone-shaped top that every kid secretly longs for. Leave it to newbie Ron to concoct the dream Hero and rouse the suspicion that what's foaming up in the plastic cup may not be the product advertised after all. Mix in a little subplot drama between all of the keenly astute co-workers who debate whether their function is that of the technician or the artisan, and Ackerman's script makes for one absorbing, enthralling, peculiar window into corporate reality.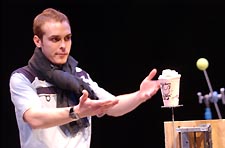 Ackerman, who has worked as a prop master on films, commercials, and even television's Saturday Night Live, composes Tabletop in much the same way as a familiar SNL skit: the endless stream of quick-witted, brainy zingers are coupled with sardonic commentary on the tabletop advertising industry. It's enough to make audiences re-consider the tedious work behind the close-up shot of a cheese wedge being sliced ever-so-primly, or the wide frame of a candy bar mysteriously breaking free from its crisp wrapper. At nearly two intermissionless hours, Tabletop isn't an evening of flawless entertainment, but leave it to Round House to elevate what could easily be average material to an exceptionally engaging piece of theater.
Stepping into the Silver Spring space is an instant introduction to the intricate work of exacting camera lenses, crafty gaffers and grips, and bona-fide employees who drink coffee and take snack breaks between filming. All of this is marvelously detailed upon James Kronzer's busybody set, a highly-functional studio filled with enough gadgets and gizmos to start a tiny production studio. Kronzer's work is not just sufficient — it is a bravado conglomeration of work lights, properties, turntables, and other constructed visuals that seem ready for a souped-up infomercial.
Since Tabletop unfolds in real time, with no blackouts between scenes, director Jane Beard must develop enough momentum to sustain the dramatic tension on stage, while managing the shift in focus to her steadfast soldiers clocked in around the studio. Beard has mastered the internal hierarchy of Ackerman's esoteric universe, as her own father worked for an agency and cultivated brand loyalty at home.
That perverse sense of product recognition and commercial seduction is the norm for Beard's solid cast of familiar faces, including Aubrey Deeker's Ron, the hyperactive, creative rookie with outrageous ambition. Deeker is a kooky riot as the naïve kid forever searching for his big break, and delivers an outlandish monologue about a French fly that gets stuck in his ear canal with impressive audio effects.
Tabletop
By Rob Ackerman
Directed by Jane Beard
To 10/31
Round House Theatre
8641 Colesville Road
Silver Spring
$25-$35
240-644-1100

Craig Wallace, David Marks, and Todd Scofield are the crew members who only see Ron as trouble in the studio, and the trio is deftly convincing with their worker-bee sensibilities. Scofield especially shines as a closeted cameraman, while Jerry Whiddon's Marcus is an intimidating monster storming on and off the set like a hurricane in cowboy boots.
Much to Ron's dismay, Marcus' studio has been known to decapitate baby rosebuds to sell a moisturizer "to women who aren't as moist as they could be. " This time around, Ron will ensure that their frothy concoction sells, at a price that Marcus must absorb. When the producer calls for another smoothie by shouting, "We need a new Hero, " she's not just talking about blending more ice and fruit together. It's time for the re-evaluation of a culture all too content to buy more and pay less, no matter what the cost. According to Ackerman's insulated illustration, that cost is mighty high.