SOFT CELL SINGER HOSPITALIZED… Nearly two weeks ago Soft Cell singer Marc Almond suffered serious head injuries in a life-threatening motorcycle accident in London. Almond, 47, was the passenger on a motorcycle that collided with a car at an intersection. People magazine reports he's currently recovering in stable condition after surgery at a London hospital. Among other songs he popularized as part of the early '80s synth-pop pioneering duo Soft Cell, his "Tainted Love" quickly became a gay anthem. The gay Almond was rumored to be preparing a British release this month of a solo cover of Laura Branigan's "Self Control." It was his way of paying tribute to the artist, who died a few months ago…
BRITISH HOUSE MUSIC HONOURED… Because there are not enough awards as it is, "the first-ever global House Music Awards" will be inaugurated in London next Thursday. The official purpose is "to recognize the creators and innovators of house music." But the unstated purpose seems to be to recognize the creators and innovators of house music popular in the United Kingdom. Nothing wrong with that, since much of the best dance music today comes from just across the pond, and not in its American birthplace. Just don't expect to get too excited over the slate of nominees. Unless you live in or make frequent trips to England, the most you can say for the majority of the artists nominated is that you've seen their names before, maybe heard their work once or twice. But you don't really remember it. Which is why, if nothing else, attention must be paid to organizers for including online (www.housemusicawards.com) audio samples and biographical information on all nominees. Grammys, please take note.
So, will Tim Deluxe or Kaskade or Junior Jack prevail as Artist of the Year? Or will it be Blaze? Well, your guess, if you have one, must be better than mine. The hazy, partly obscured view from here would say Kaskade, since In The Moment is an all-around better album than runner-up Jack's Trust It. But I've had no access to the latest work from Deluxe or Blaze or the other four nominees, so who knows? And anyway, it's based on popular vote, not critical concern, so really, there's no way for those of us over here, who haven't ventured lately over there, to know.
In arguably the top category, Track of the Year, only three of eight have made much of a dent stateside. True, the others may be on their way to release here, since we're generally many months behind. But as I see it, it's the Shapeshifters' (in the states, they're known as Shape:UK) to lose. That group's disco-dipped "Lola's Theme" is the best of the bunch, and also arguably the most popular, even here, where it's lodged on top of Billboard's Dance Radio Airplay Chart, and firmly planted high on many DJ play charts as well. In case you don't recognize the infectious tune by name, it's the full-on gospel house track — which samples Johnny Taylor's 1982 R&B hit "What About My Love" – with swirling horns, clashing cymbals and the lead lyric, "I'm a different person, yeah, turned my world around," sung by the London Community Gospel Choir's Cookie. Pure dance-pop joy…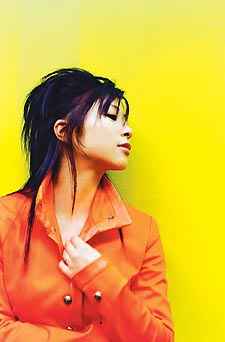 Utada
UTADA'S 'JAPANESEY' INSIDE… After 14 weeks, "Lola's Theme" is about to fall off Billboard's Hot Dance Music/Club Play chart. Incredibly it peaked at number five. Currently ruling that chart's roost is Japanese-American Utada with "Devil Inside." The 21-year-old Utada worked with celebrity producer Timbaland on three tracks — though surprisingly none are standouts — on her American debut, Exodus, released earlier this month. She's a veritable pop star in Asia, where's she's been releasing chart-topping albums since she was 16. The most all-out dance track here, "Devil Inside," is perfectly pleasant, marred only by its chorus, which splits the song title in half. As such, it isn't as strong or catchy as it should be. And sadly, none of the remixes — not even The Scumfrog's — improves on the original.
It amazes me that Utada has managed to get some mainstream critical attention, given that her first single aimed at pop radio is the laughably bad "Easy Breezy." Yes, she really does sing "you're easy breezy, and I'm Japanesey" in the fake-baked chorus. Embarrassing. Musically, the song is ho-hum bubble gum, nothing fancy. All told, Utada is less noteworthy for her lyrics than for her weird (in both the good and bad senses of the term) musical fusion of alt-rock, American pop, dance, funk and Asian-flavored pop…
VOTE NOW FOR PRESIDENT DJ?… At last month's Billboard Dance Music Summit, German DJ Paul van Dyk talked about his experience this year spinning for Rock the Vote concerts around the country. Through a Q&A panel, he relayed the story of one distressed soldier, just returned from Iraq, who told Van Dyk his music is the only thing that keeps his spirits up until the election. Van Dyk said he just hopes that the U.S. "elects the right person who won't take us into another Iraq." Dutch DJ Tiesto, meanwhile, was asked at another Billboard Q&A session if he'd like to be President of the United States. He said yes, as he laughed at the inconceivable idea. Don't forget to think of him — and laugh — come Tuesday…