It's fair to say that America is polarized. The 2004 election helped quantify the division, with 51 percent on the right, 48 percent on the left.
Gay voters, for the most part, fall into that 48 percent. Granted, there are gay voters who aligned themselves with the George Bush camp (or with Nader, or with none at all). After all, the president made history during his victory speech, joined onstage by an openly lesbian couple: Mary Cheney and Heather Poe. Cheney is not just Vice President Dick Cheney's daughter, but an employee of his campaign.
Nevertheless, the gay establishment was clearly behind John Kerry. The Human Rights Campaign's "George Bush, You're Fired" signage was ubiquitous. Even the gay Log Cabin Republicans refused to endorse the Bush campaign, citing the president's support of a constitutional amendment to ensure that America never allows same-sex marriage. Locally, gay D.C. City Councilmember David Catania left the Republican Party and helped campaign for Kerry.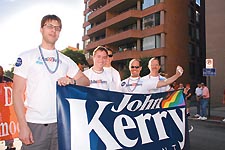 Marching for Kerry: Thomas Otto, far left, at the 2004 Capital Pride parade.
(Photo by Randy Shulman)
With the most expensive campaign in U.S. history all wrapped up, the country is still left with the emotional fallout. On Nov. 3, many of the 48-percenters were left looking glum, to say the least.
In D.C., it's not hard to find gay people who supported the Kerry campaign. Many of them even joined the Gertrude Stein Democratic Club, the Human Rights Campaign (HRC) and others on trips to Pennsylvania and Ohio to campaign for Kerry in those battleground states.
"George had to go and I had to do whatever I could to make sure that happened," says Thomas Otto, a gay, 35-year-old D.C. resident, who made two campaign trips to Pennsylvania, and one to Ohio. "It was just about the need to get George Bush out of office, and we have no other avenue in D.C. It was feeling of helplessness."
José, a local gay man who asked that his last name not be used as he's still in the process of obtaining U.S. citizenship, went on one trip to Pennsylvania. As José is not yet a citizen and cannot vote, campaigning was the only political voice he had.
"I was really optimistic from the start till the end," says José, regarding Kerry's chances. "The day after the election, when I woke up, we still didn't know. They were trying to hold out for Ohio. When I heard that Kerry called President Bush to concede the race, I was feeling so sad. I was feeling sad for the country."
While José has yet to become an American citizen, fellow out-of-state Kerry campaigner Jim Toscano is practically a poster boy for "all-American." Toscano is a veteran with plenty of combat experience. "I've been involved in every conflict since Vietnam," Toscano offers, ticking off the Gulf War, Libya, Lebanon, Panama and Somalia. He declines to offer more details, refusing even to name the branch of the military in which he served. His position was too clandestine to offer a full résumé, he says. Toscano's experience with politics or the gay community, falls far short of his military experience, though.
"I'm 46, and this is the first time I voted," Toscano admits, adding that he's only been out as a gay man for six months. "In the military, I figured it didn't really matter who the commander in chief was. I just did my job. I was politically apathetic for the past 20 years."
Toscano says he took a $40,000 pay cut to leave a federal job and become an attorney for the D.C. government, because of his feelings about the Bush administration.
"The fact that we did not go after the terrorists, but were distracted by Iraq. Instead of fighting terrorists, we were creating terrorists," Toscano says, outlining the political issues that prompted him to get involved in his first election. "Secondly, it was the administration scaring the nation with their federal marriage amendment talk. They created fear in America against gay people, creating an environment of hate. Those were the two issues that really threw me over."
It wasn't long till Toscano found an outlet for his new political awareness. "Somebody I met this summer was an intern for a Republican senator, who sent me a link to the gay Democrats," says Toscano, adding that he followed the link to the Gertrude Stein Democrats and offered to help the Kerry campaign. "Basically, I did community outreach stuff in Philadelphia. I knocked on doors and canvassed. It was two weekends in Philly."
Otto's political awakening was similar to Toscano's, in that Otto had very little interest in politics prior to this year's presidential race.
"Back in April, I walked into Kerry headquarters and started stuffing envelopes like everyone else," says Otto, listing his prior political experience as "zero." Otto says he was pulled into the election by the Bush administration's policies on the environment and Iraq. "GLBT issues are fairly low on my list, but presidential statements about a constitutional amendment were an added motivator."
For José, the issues were primarily health care and the economy. Though Toscano cited Iraq and the marriage amendment primarily, he also mentioned economic issues.
"It's the war, the economy, it's not caring about people," Toscano says. "[Bush] talks about his agenda he's going to put forward. He's basically said, 'fuck 48 percent of America.' He's going forward with tax cuts and privatizing social security. I saw that attitude when I was working in the federal government."
While José, Otto and Toscano offer a range of responses about the election results, ranging from sadness to anger, Martin Yeung is not particularly bothered. Of the four, he has by far the most political experience. Yeung, 30, worked for Bill Clinton's administration, and now works for the D.C. government. He says he didn't start actively campaigning for Kerry till a Clinton administration colleague called asking for his help.
"I thought this was an important election, but in terms of really pushing me to leave the comfort of my home, it was the personal connection," says Yeung, who spent four days in Pennsylvania. "I made signs, held up signs, did data entry, made phone calls and went canvassing."
With his level of political savvy, Yeung's reaction the election seems less emotional than pragmatic. "I went through the machinations of 'How could so many people be so stupid?,' but the Republicans had a strategic plan they executed tremendously well," Yeung grants. "They stayed on message. Hats off to them. With bad poll numbers and a divisive election, they pulled off a clear victory. We thought it would be like Florida all over, but it wasn't.
"You know what? Politics is a dirty, hard and messy game, and you've got to play to win. For me, it's like the Super Bowl. When your side loses, what did it do wrong? Now we have to find out what we can do to fix it. It's absolutely imperative to come up with a plan."
Otto seems less concerned with hammering out a plan than with just hunkering down for the duration.
"Except for same-sex marriage, I can secure most of my rights with legal documents. I'm employed. I don't need Medicaid. I don't have a child. I'm not a woman and will never need an abortion. And I'm not an 18-year-old male who's going to be shipped off to be killed," Otto observes. "It is really emotional. All you people in the red states, I no longer care if you don't have enough to eat, that your kids are going to die in Iraq. I don't care. If you're going to vote your religious convictions, pray for your God to help you. It's very cynical, but I've got four years to get through."
Otto adds that Mary Cheney's onstage appearance with her partner during Bush's victory speech was less an indication that there may be a gay-friendly component to the administration, than adding insult to injury. "After he's won the election and used [same-sex marriage] as a wedge issue?" Otto asks rhetorically, pointing to the timing of Cheney's appearance. "It's absolutely cynical and opportunisticÂ….[Mary Cheney] is like the Roy Cohn of our generation."
Despite the depth of Otto's disappointment in the election, he says he is comforted that he made an effort for the Kerry campaign. "Because I did the work that I did, maxed out my contribution — I'd never given a dime to a campaign before — I felt good. If I hadn't done anything, I'd feel miserable."
Toscano's post-election emotions are solemn. "I'm disappointed in America," he admits. "I'm disappointed that people weren't concerned about children dying in Iraq, about health care, about jobs and economic opportunity. I'm concerned that Middle America considers God a bigger issue than their own futures."
Concludes Otto: "I'm kind of resigned. After the election, I was worried it was going to look like Bush had a mandate. Then I realized, he does have a mandate. We're just going to have to watch it swing right for a while."