The Incredibles is just that: incredible. It's also phenomenal, magnificent, exuberantly entertaining, and just about any other positive adjective you can think of.
From the hip fifties deco-influenced design to the swiftly witty script by director Brad Bird, The Incredibles does for superheroes what Finding Nemo did for fish, Toy Story did for playthings, and A Bug's Life did for insects: brings them to life in a way you could have never imagined, all the while giving them a playful, satirical tweak.
With more and more CGI animations being released every year from various studios the stakes are high to be the best at the game. Despite serious competition from Dreamworks, which has had success with the Shrek series, Pixar remains the industry's brightest pixel. Its creations are practically perfect in every way, a result of the meticulous attention to detail, care and craftsmanship that goes into each and every project. While each successive film has improved on the previous, The Incredibles takes a few new leaps and bounds in both appearance and narrative sophistication.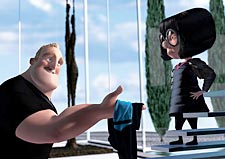 Strictly speaking, The Incredibles is not a children's film. The movie's wry and wily sense of humor is aimed at a slightly more advanced filmgoer, anywhere from age 8 and up. It's adults, however, who should get the most enjoyment out of it, what with its sleek James Bond mentality, clever references to things like the Witness Protection Program, strongly realized principal characters, lively and very funny supporting characters, and keen-minded references to the world of superheroes and their megalomaniacal foes.
The movie is a lush spectacle and it fully utilizes the lifelike three-dimensional qualities of CGI animation while keeping an artistic foothold in the classic hand-drawn animations of the past. There is a subtle, lavish beauty to The Incredibles that is as captivating as it is hypnotically soothing.
Writer-director Bird's basic concept is nothing short of ingenious. After a series of lawsuits, the world's superheroes are forced into retirement and are relocated, assigned to suburbs where they must maintain their secret identities and live out their lives as mundanely as possible. Bob and Helen Parr — Mr. Incredible and Elastigirl — are doing their best to adjust, but Bob is beyond bored with his cubicle-confined job as an insurance adjuster and yearns, along with his old friend Lucius Best — aka Frozone — to relive the days when saving the world was his raison d'etre.
Bob gets his opportunity when Syndrome, an insane, wild-haired villain, arrives with suitably destructive plans. In the process, Bob's family comes to his side — and a new team of superheroes — loosely modeled after Marvel's Fantastic Four — is born.
Bird ingeniously inserts family dynamics throughout narrative, providing a fine layer of nuance to otherwise familiar plot trappings. Each of the Parr's children — son Dashiell, daughter Violent and infant Jack Jack — comes into his or her own, learning how to utilize their individual powers for the greater good. Moreover, the family puts aside its petty squabbles and learns how to function as a cohesive unit. These folks don't just have values — they have super-values.
The Incredibles is studded with playful references to tons of other films — everything from The X-Men and Spiderman 2 to Return of the Jedi, but its greatest influence is the Bond series of movies. Bird's approach is respectful and affectionate, and the movie lacks any derivative shamelessless.

Area Showtimes The Incredibles
Starring Craig T. Nelson, Holly Hunter and Jason Lee
Rated PG
115 Minutes
Area theatres

The vocal work is sensational, especially Craig T. Nelson's beleaguered Mr. Incredible and Holly Hunter's infinitely sensible Elastigirl. Jason Lee is in good form as the adenoidally over-the-top Syndrome, Wallace Shawn is memorable as Bob's caustic and tyrannical boss, and Samuel L. Jackson has some ultra-cool moments as Frozone. But it's Bird who steals the film as the gravelly, husky voice behind the diminutive Edna Mode, a brusque know-it-all designer of superhero wear. Edna's explanation on why capes are a fashion hazard gives fruit to one of the movie's wildest gags.
The Incredibles features plenty of showstopping action pieces, but none as adrenaline-boiling and rewarding as a tropical island jungle chase involving the super-speedy Dash and a fleet of enemy buzzcraft. On the other hand, some of the best moments in The Incredibles have little-to-no action whatsoever, and focus directly on the challenge of extraordinary people adjusting to ordinary life. Which, of course, is the film's big message: When you're extraordinary, why hide it? One thing's for certain, no one should hide from The Incredibles. It's the first movie of the year to fully live up to its title.