Those lucky enough to have seen the production of Verdi's Il Trovatore staged by the Washington National Opera in 2000 will recall a fully-conceived and poignantly executed night of high drama. With that memory still fresh, I eagerly anticipated this season's resurrection of the production featuring Denyce Graves as the gypsy Azucena and some talented newcomers. Stephen Lawless directed both versions, and yet this year's unfocused effort pales by comparison.
As you take your seat, your soul may again be stirred by the familiar sight of an uncurtained stage strewn with the bodies of prostrate knights, motionless amid sheets of rain tumbling through the castle walls. Enjoy this moment with its magical and portentous mood (are the knights sleeping or dead?). Enjoy it, because it's the first and last cohesive vision you'll get — and the only part of the earlier production Lawless apparently decided to leave be. The rest of the opera has little in common with the 2000 rendition, save the sets (which did some mighty flapping).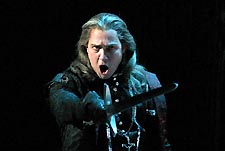 Out of sync: Azucena
(Photo by Karin Cooper)
Granted, we are treated to the splendor of Denyce Graves. As Azucena, the pivotal character in Verdi's tragic tale, Graves infuses the gypsy with grace and gravitas. Her voice is captivating, resonant with the tones of a beautifully pitched church bell. But despite Graves' super-human talents, she is no match for a production that slides around like a vast and depressing runny egg. As the evening progresses, the question becomes: Is this worth seeing just for Graves? Not really.
Though Graves gamely carries every scene she's in, we spend much more time in the company of Azucena's son Manrico, his lover Leonora, and the unrequited Count di Luna. These three performers seem subtlety out of synch, either with themselves or each other. The net effect is a series of deflated dramatic peaks and sometimes even confusion.
The problems arise early on when the Count interrupts a tryst between Leonora and Manrico. This should have been a scene fraught with the tension of a tortured love triangle, but instead plays out with about as much passion as an awkward cocktail party where someone has spilled the wine.
Il Trovatore
by Giuseppe Verdi
Presented by the Washington National Opera
11/5, 8, 11 & 13
Kennedy Center
Opera House
202-295-2400
www.dc-opera.org

Matters are not helped by Mikhail Davidoff as Manrico who appears noticeably uncomfortable in his role, leading him to some odd choices. For example, in his first meeting with his rival, he produces an enigmatic smile and proceeds to move about the scene with clichéd gusto. As a singer, tenor Davidoff possesses the range to tackle this challenging role, but compared to the velvety textures of the other singers, he comes off as somewhat thin and tight.
Manrico also fails to emotionally engage with Azucena, his dysfunctional but clearly devoted mother. Thus, as the finale approaches and they both spend their darkest hour in nearby cells, he seems so remote it is surprising when he bothers to ask after his mother's health. This does nothing to bolster the opera's climactic moment when Azucena reveals Manrico's devastating secret.
Soprano Krassimira Stoyanova does a lovely job as the lovelorn Leonora. She is a good actress, economical with herself and careful to avoid most of the Official Moves of the Distressed Heroine (which include shielding one's eyes with any part of the arm except the hand). Wolfgang Brendel as the Count (returning to the cast after an illness) plays the role with a lion-like ferocity, singing with a satisfyingly sonorous and expressive baritone. His performance goes a long way to compensate for this off-track production.
The crowd and battle scenes are poorly conceived and choreographed. Yet thanks to their perseverance, the chorus transcends these scattered visuals with their honor intact. Conductor Heinz Fricke ably keeps the pace on target and the orchestra alive to the score, another saving grace.
Ultimately, the buck must stop firmly with Lawless. There is clearly talent here, but it must struggle to surface in a production that rolls and wavers without constraint.