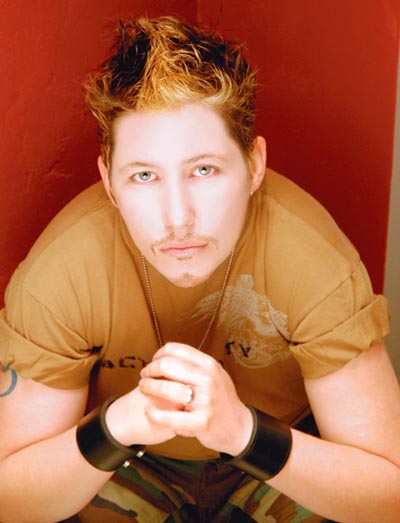 Allix Allot
A couple years ago Allix met a boy at Nation. After dancing together for a while, they started making out and their hands began to roam. But when the boy groped Allix and found no bulge to speak of where he expected a bulge to speak, he grasped the non-same-sex situation. "He just kind of smiled and went, 'Damn!'" Allix laughs. "And then we just kept dancing."
Born a female, the 27-year-old Allix Allot considers himself to be between male and female genders. He often dresses in "pretty rough and tumble" drag, though "sometimes I pass as a man even when I'm not in drag." In fact, Allix was not in drag the night he met that boy at Nation. The gender confusion is understandable: Sitting at a Dupont Circle Starbucks on a Saturday morning wearing a sporty leather jacket over a T-shirt proclaiming "Self-Service," Allix's blonde-streaked brown hair frames a cherubic face with classic pretty-boy good looks.
Currently in a long-term relationship with a gay woman, Allix is sexually attracted to all gay people, male, female or transgender. "I'm bigendered and bisexual if you will, but bisexual in a queer sense, not a straight sense," Allix says, explaining that he's only attracted to people who identify as queer. "If I were to be involved with a man, it would be as a gay man [with] a gay man. I like my boys." And though he, as a she, is technically in a lesbian relationship, "I don't identify as a lesbian. I never did."
Allix holds the distinction of being the first-ever transgendered Nightlife Coverboy. Some internet controversy flared when he was included in the Coverboy of the Year contest, and when he made the top ten finalists. A handful of sites in the blogosphere were abuzz with a debate over whether a functional penis should be required to participate as a Coverboy. Or, from another perspective, if the whole idea is about how one looks as a male.
"I'm sure you wouldn't want a drag queen dressed up like a girl in this competition," Allix says. "That's what this comes down to, whether this is about male anatomy or about being male. Because if we're talking about being male, I can be that, and look as good as any male."
After a tumultuous upbringing as a girl in Flagstaff, Ariz., Allix left home for college and never went back. A decade later his three brothers — ages 6, 11 and 22 — visit him, as does his mother on occasion. Maternal relations are strained, as mom remains in a relationship with a man who Allix says abused him as a child. His biological father passed away earlier this year.
Allix came to the Washington area soon after joining the Navy at 19, and for the past four years has been employed as an independent contractor for the Pentagon. Allix is not his real name, though it might as well be: It's the name everyone but his colleagues at the Pentagon — and his family — calls him. "My real name is so girly," he says in an affected feminine pitch laced with distaste. He won't reveal his birth name.
He created Allix Allot three years ago for his first performance as a drag king in his then-hometown of Baltimore. Allix has generally performed at least once a month ever since, yet he gets stage fright every time.
"I'm totally afraid to get on stage," Allix says. "I think the fear drives you. If you're not nervous when you get on stage, then you're probably starting to lose your stuff."
Crowned Best Gay Male Entertainer in 2002 by the Baltimore City Paper, Allix moved back to D.C. more than a year ago. He was one of three drag kings in the 2004 Mr. Capital Pride competition — balancing out, in part, the drag queens who rule the corollary Miss Capital Pride contest.
Allix would never think of competing in the "Miss" contest — or as a hypothetical covergirl. "No, no," Allix says. "It wouldn't even occur to me…. I'd just end up looking like a boy."
He understands that the general public, including gays and lesbians, can be confused about the way he and others present their genders.
"A lot of people confuse transgender…with transsexuals, which is very different," Allix says. "I'm not a transsexual, I'm transgendered." Many transgendered people are actually bigendered, Allix says, comfortable existing as either gender.
"That's probably where I'm at right now," Allix says of his own identification. "Which makes it a little more complicated for me to just jump into transitioning [through gender reassignment surgery]." Although in the long term he does expect to do that.
He met his girlfriend of one year, Savanna (a.k.a. Tom Cat) at a D.C. King meeting a couple years ago. It was Savanna who Allix described last April as his "dream guy" in the Coverboy profile: "Intelligent, incredibly creative, worldly, sensitive, fun-loving and all-around accepting and giving. And damn cute."
In that profile, Allix also described himself as a catcher in the big baseball game of life, though that's only as true as far as queer women go. Things would be different in a relationship with a gay man.
Says Allix: "I'd be totally butch — I'd have to be the top."
First Runner Up Prize Package
$250 Cash
Apex — Five Admission Passes
ATLAS/Lizard Lounge — Lizard Lounge $75 Bar Hospitality Voucher and a selection of Mixed CDs by Lizard Lounge Resident DJ Kostas
Cobalt — $75 Bar Tab, plus 5 VIP Passes
Cherry — Two Tickets to Main Event
Empire Video — Ten Free Rentals
Follies — $50 Gift Certificate for merchandise
Freddie's Beach Bar — Freddie's T-shirt

Halo — $25 Bar Tab
Heat — $25 Bar Tab
Hamburger Marys — Dinner for two
JR.'s — $25 Bar Tab
Leather Rack — $50 Gift Certificate
Mid-Atlantic Leather Weekend 2005 — Two tickets to Reaction Dance (Sunday, Jan. 16, 2005)
Reel Affirmations XV — Two Lincoln Theatre passes to next October's GLBT film festival
Wet — $25 Bar Tab
Ziegfeld's/Secrets — $25 Bar Tab

Please note: Some restrictions may apply to certain prizes.