When Monica Hill joined the Air Force in the 1990s, she and her partner thought it was an excellent way to both act on her patriotism and go to medical school. Although her partner, Terri Cason, was a woman, they thought the benefits outweighed the negatives.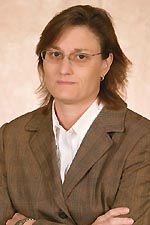 Hill
"I guess in some ways I was a very apolitical gay person," Hill says.
That changed dramatically in July 2001 when Cason fell ill with terminal cancer. Hill, who had finished her medical residency, was scheduled to report for active duty at Andrews Air Force base in D.C. She couldn't separate herself from her partner of 14 years, and feared that leaving her assignment to be with Cason at their Ohio home could land her in jail for not reporting for duty. So she made the difficult choice of telling her superiors about her relationship in hopes that they would defer her assignment.
"The only chance I would have had would have been if Terri had been my husband," Hill says. "They don't recognize anything other than marriage."
Instead of deferring her orders, the Air Force cancelled them and began an investigation. The investigating officer accused Hill of concocting the story in order to avoid her required service. Hill was forced to produce a death certificate for Cason, who had died on Sept. 11, 2001.
"That [accusation] was so not the case," Hill says. "Right after Terri got diagnosed with terminal cancer, her first words were 'You have to go.' … That's the kind of person she was. She didn't was me to give up my career and being an officer. She was proud of it."
Hill is now fighting to get that career back by joining eleven other gay and lesbian veterans in a federal lawsuit seeking to overturn the military's "Don't Ask, Don't Tell" policy.
 And although the country may have just dealt the gay and lesbian community a stinging political blow with the passage of multiple state constitutional amendments banning gay marriage, when it comes to the right to serve openly in the military the time may be ripe for a change.
Osburn
"The context is vastly different than a decade ago," says C. Dixon Osburn, executive director of the Servicemembers Legal Defense Network (SLDN), which is spearheading the lawsuit. According to polls, nearly 80 percent of Americans support allowing gays and lesbians to serve their country openly. And with the Supreme Court's Lawrence v. Texas ruling overturning sodomy statutes, the legal underpinnings of "Don't Ask, Don't Tell" have weakened.
Another important change is that the country is in a time of war and facing difficulties recruiting and retaining enough personnel to maintain its military readiness, Osburn says. Yet the armed forces continue to discharge gays and lesbians at a rate of two or three a day, and often those with vital wartime skills, such as Arabic linguists.
"Courts in the past have deferred to the military, who have said the ban was needed for military readiness," he says. "We're going to show that the ban hurts military readiness."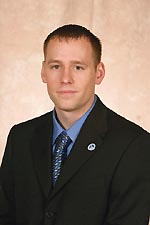 Glover
The lawsuit was filed in the U.S. District Court in Massachusetts, which has not considered "Don't Ask, Don't Tell" previously. Should the plaintiffs prevail there, SLDN expects the case to make its way through the court system to the Supreme Court. Osburn is optimistic about the their chances.
"Courts today have Supreme Court guidance [with Lawrence] they didn't have before," he says. "With that guidance the courts will be more reluctant to defer to the military than before."
In the battle over gay and lesbian marriage rights, one of the rallying cries of the anti-gay forces has been against "activist judges" and what they call the use of the court system to grant "special rights" outside of the democratic process. But Osburn says that he doesn't see this "Don't Ask, Don't Tell" lawsuit as politically risky.
"There are two ways to address a wrong, the courts or the legislature," he says. "They are equally valid strategies. … We're not going to handcuff ourselves by not using an alternative to redress wrongs. And for these plaintiffs, it's the only way they can get their jobs back."
Osburn says that SLDN continues to work on Capitol Hill to develop support for ending the ban, but they don't plan to introduce a bill right now "because the climate on the Hill is not terribly favorable." But, he points out, they don't control how political issues play out in Congress, and SLDN will be ready if the issue moves forward.
As much as they want their jobs back, the plaintiffs also want the opportunity to put their patriotism into service.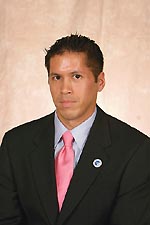 Hall
"We both want to serve our country," says Jack Glover, who along with his partner David Hall, was discharged from the Air Force ROTC program at the University of Alaska in 2002 after a friend informed their superiors about their relationship.
"Both of us would have made great officers, and as Americans we should have the right to serve," says Hall, who had spent a number of years in the Air Force before going to the university, and had been on track to train as a pilot before his discharge.
Hill says her apolitical days are long gone.
"In a way, I'm kind of ashamed of [being apolitical] before," she says. "I kept my business to myself and I didn't think it was necessary to be active. I didn't understand why people were doing that. Now that I've experienced discrimination, I realize why it's important to be out there and that America realize that we exist."