After Mitsubishi tapped Dirty Vegas to promote its Eclipse model two years ago with the song "Days Gone By," the band became the most popular electronica act around. They even walked away with the 2003 Grammy for Best Dance Recording for the song. The band's eponymous debut album was merely average in quality — and not another bona fide hit emerged. But the diversity in dance styles Paul Harris, Ben Harris and Steve Smith factored in — from trance to chillout to dance-rock — showed potential, leading us to think they might become this generation's Duran Duran.
Further hyping our hope, the band's A Night at the Tables (well, the first half of it anyway), was one of the strongest DJ compilations released last year, brimming with intricate and organic percussion. The band even went so far as to publicly hope that their Grammy win might help dance music emerge from its underground status in America.
And now they've released One, a largely dance-free, organic pop album. Much of the music on One is pretty, and the band knows how to structure a song so that you feel compelled to listen to it all the way through, as it gradually builds to a rolling boil. They do it several times here. Yet only "A Million Ways " comes close to achieving the undeniable effervescence of "Days Go By. " "Given You Everything " is another rare track to feature Dirty Vegas' once-signature electronic flourishes, along with its formerly peppy sensibility. That song, and first single "Walk Into the Sun, " with their jangly guitars and synthesized percussion, even conjure '90s-era U2.
But the mood is mostly dour and sleepy. So, so sleepy. The album consists mostly of ballads that clock in at a mid-tempo pace. So you might sleep right through the lyrics. It'd probably make the disc more tolerable. The lyrics are generally either depressingly banal ("Only thing worth living for is love "), or laughably bad ("You gave it all so much, in return for human love"). Even worse are Smith's vocals. He strains his voice far too often — especially when songs build to a rolling boil, which lessens their pleasure. He scales up for effect, turning screechy and whiney. If this is dance music's only hope to emerge from the underground, we'll sit this one out.
---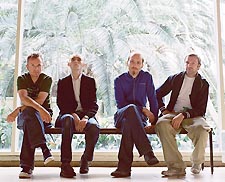 Straight from the underground: Swayzak
For quality dance music we've got to go back to the underground. That's where you'll find the British duo of David Brown and James Taylor (no, not him), collectively known as Swayzak, which has just released its fourth album, Loops from the Bergerie. Don't worry if you've never heard of Swayzak, you're meeting them just in time. The duo — which really was named as a bastardized riff on the name Patrick Swayze, though it's not clear why — is currently embarking on its first U.S. tour and will perform from the stage at Club Five next Saturday, Dec. 18.
This chiefly deep-house duo draws some influence from Radiohead and Joy Division to pad out its sonics. But it's at its best when it picks up where Underworld left off, notably the creepy instrumental cinescape of "Bergerie. " Also appealing is the dance rock sensibility that permeates several songs here, from the New Order-esque opener "Keep It Coming " to the sweetly haunting "Snowblind." The last two tracks were sung by Brown. He should sing more often.